Samsung Galaxy Note 7 review: A pricey phablet made for power users
The Note line continues to shine with its sixth-generation installment, and it's the best it's ever been.

Florence Ion: The backside is an absolute fingerprint magnet.

Florence Ion
But you'll be quick to forgive once you watch something on its vibrant, 5.7-inch Super AMOLED display.
Of course, what good would Samsung's productivity-centric device be if it weren't life-proof? The Galaxy Note 7 is IP68 certified, which means it's water resistant in five feet of water for up to half an hour. As a bonus, the S-Pen is also water resistant, and you can use the stylus to navigate the interface even while the Note 7 is submerged.
About that iris scanner

Florence Ion
The Note 7's iris scanner is awkward to use at first, and you might have to stare at yourself as the phone registers your presence.
I know you've been dying to hear about the new iris scanner. So, rather than wait until we get to the software section further down, let's jump into it right here.
Samsung's big sales pitch for the Galaxy Note 7 is that it comes equipped with the ability to unlock the phone using only your eyes. As far as marketing schemes go, it's really quite genius. This is the kind of technology we've only seen exhibited in science fiction films, and it's not a feature we expected to have implemented so soon in the mainstream.

Florence Ion
The iris scanner grants you access to a special sequestered folder called the Secure folder.
The iris scanner can be used to unlock the Note 7 and a special Secure folder, which effectively functions as an entirely separate, confidential user account. For the most part, using the iris scanning feature is as simple as holding the phone up to your face. You'll see the infrared sensor light up when it's activated, and if it works, you'll move on to the next screen. If not, you'll have to enter in a backup password.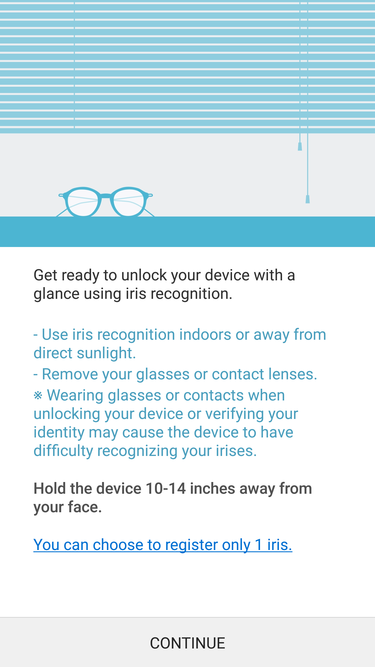 Sorry, glasses wearers. The iris scanner may not work with your hardware.
Set up is exceptionally easy, too, and much faster than tapping the fingerprint sensor a bunch of times to register your thumbprint. The only downside is that if you're wearing glasses or contact lenses, the iris scanner may not work as intended (though it worked fine while I was wearing my purple sunglasses). It's also a bit finicky in direct sunlight, and it won't work if the infrared sensor is dirty. At the very least, no one else can get into your phone—not even with a picture of your eyes.
Previous Page 1 2 3 4 5 6 Next Page