Sage home-automation and security system uses your TV and smartphone or tablet as control panels
A central hub controls lighting, door locks, cameras thermostats, and other devices; uses picture-in-picture technology to show live TV inside its user interface.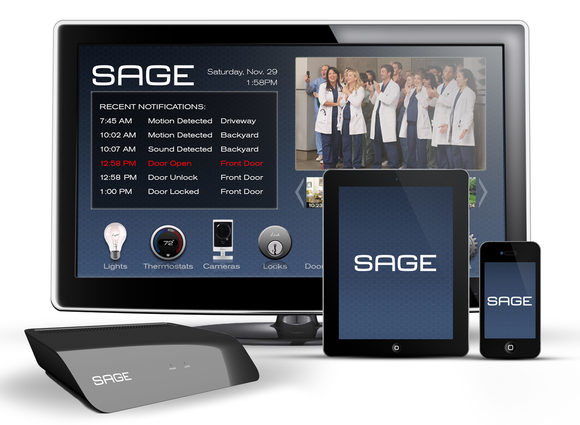 EchoStar, the satellite service provider affiliated with Dish Network, is ambitiously jumping into the smart-home space with Sage, a home-automation hub aimed at consumers looking for a comprehensive, but easy-to-install do-it-yourself solution.
The feature that makes this system so interesting is that it connects in between your cable, satellite, or streaming-video set-top box and your TV, overlaying its dashboard on the screen and showing the live TV using picture-in-picture mode. There will also, of course, be smartphone and tablet apps for the system.
Product manager David Lett was a somewhat light on details--including a price tag and availability--when he gave me an embargoed briefing last month, but I liked what I heard. I was especially enthused with the part about this being a self-installable, self-monitored system that's free from monthly subscription fees (more on that later).
Similar to the Wink Relay and the Wink Hub, the Sage houses radios for all of the most popular smart-home protocols: ZigBee, Z-Wave, Bluetooth, and Wi-Fi. Users will also be able to download updates that will add support for other protocols, such as Nest's Thread or 6LoWPAN. So Sage should have the infrastructure to support most any type of lighting control, security camera; door, window, motion, or glass-break sensor; thermostat; or other smart-home component.

The Sage controller supports just about every home-control protocol you can think of.
Echostar will build some of these devices itself. Lett mentioned three--in addition to the hub itself--that sound pretty awesome: There's a doorbell sensor that sends an alert to your TV and to your smartphone when someone rings the doorbell. If there's a security camera pointed at the front door, a video stream showing the person who rang the bell will pop up on your TV.
Lett described a battery-powered, snap-on, mechanical retrofit for existing light switches that installs without touching the AC wiring (no, I don't understand it either). And he told me about a wired outdoor security camera that uses power-over-Ethernet, but that has a Wi-Fi module in its AC adapter. You feed its flat Ethernet cable through the window--closing the window on the cable, presumably--and plug it into the AC adapter. Video streams from the adapter to your Wi-Fi router wirelessly, and you don't need to worry about having an outdoor AC outlet or a camera that runs on undependable battery power.
Sage could be an effective self-monitored home-security system because it provides a direct connection to your local emergency responders. "If someone breaks in," said Lett, "and is detected by a motion, glass-break, door/window sensor, me an everyone in my family will get an alert on our smartphones. If a security camera is involved, a clip of what triggered the alarm comes attached to the message. That video will pop up on the TV, too."