RollerCoaster Tycoon World preview: A wild(ly easy to get into) ride
RollerCoaster Tycoon World takes the spirit of the RollerCoaster Tycoon games of yesteryear and infuses it with some of the best elements of Cities: Skylines.
Not to harp on the same comparison, but it's almost identical to building roads and elevated roads in Cities: Skylines—except with some additional coaster-specific features. Obviously rollercoasters aren't merely flat, so you can change tools to either bank a turn or create a twist/loop in the track. Then you can go back in and add chains, boosters, and bumpers to the track where necessary.
Within minutes I'd built a massive rollercoaster in my empty park. One that terminated in mid-air, of course, launching the cars off the end and killing everyone inside. It's still a RollerCoaster Tycoon game.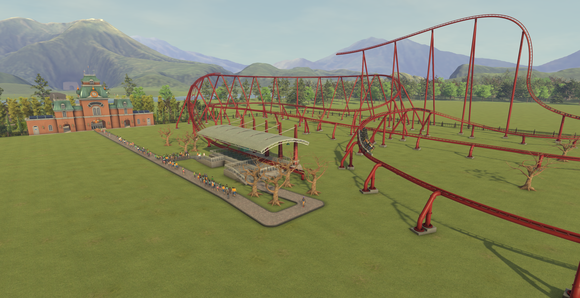 Here's my coaster. This took about fifteen minutes, all-told.
The same coaster in a grid-based system would've taken two or three times as long though, especially because I kept screwing up the physics and needing to widen a curve here, stretch a loop there, et cetera. In a grid-based system I would've had to delete that section of track and start over. With the new build it's as easy as clicking the affected node and pulling it or pushing it in the desired direction until all systems are go.
I'll make my own theme park
Another thing RollerCoaster Tycoon World has in common with Cities: Skylines? It's one of the most mod-friendly and community-focused games I've ever seen.
There's the really simple side: Blueprints. Building a massive rollercoaster and you can't quite afford the last hundred meters of track? You can now finish building the coaster, save your track design, and then come back and build the whole thing later when you can afford it. Blueprints are also your main means for sharing coaster designs with the community.
And how do you do that? Built-in Steam Workshop support. Like, actually built-in. Pull up the pause menu in RollerCoaster Tycoon World and there's a tab just for browsing Steam Workshop. You can check out popular mods, subscribe to and enable them on-the-fly, and they'll show up in-game in the appropriate categories.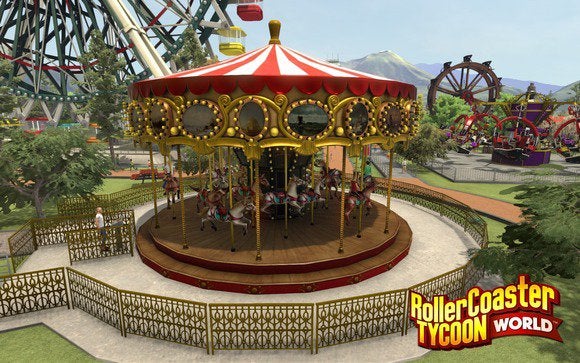 At launch there will be some limitations—mod tools will pretty much support aesthetic tools only, i.e. scenery. Support for modded rides and modded rollercoasters is planned, but just not at launch.
Still, it's the easiest (as far as you, the player) method I've ever seen for accessing Steam Workshop and will hopefully make the idea of "mods" less intimidating to people who'd never check out Nexus Mods or any of the more hardcore niche sites. And it opens up all sorts of themed park ideas, from your very own Fallout 4 theme park to full-scale recreations of Disney World (provided someone models the basic assets).