Roku Streaming Stick Big Roku experience in a downsized package
The $50 Roku Streaming Stick aims for the sweet spot between Roku's line of set-top boxes and the $35 dongle-shaped Chromecast from Google.
Four dedicated buttons let you quickly access Netflix, Amazon Instant (which I use) as well as subscription-free movie-rental services M-Go and Blockbuster (which I don't). So it'd be cool to be able to reprogram those buttons—maybe they could have E-ink labels that would change depending on what four channels I wanted to bookmark. And I do appreciate that Roku purposefully went minimal with its 16-button remote. But including a little keyboard would help for entering usernames and passwords and using the Search function. Vizio includes a small, backlit QWERTY keyboard on the back of the remote controls for its smart TVs, for example. Thankfully, those setups are once per channel, and you can use the free Roku app for iOS and Android to enter search terms using your phone or tablet.
Plus, just including a remote is a huge point for Roku. The Chromecast has no remote—you can only control a Chromecast with another device on your network, like a smartphone, tablet, or PC. That's fine when I want to watch something, since my iPhone is usually within arm's reach anyway. But its gets more complicated when I leave the house, with my phone, and my toddler and his babysitter want to watch Sesame Street. Instead of having to explain how to do that with the Chromecast, I can just point to the Roku remote, which is simple enough for anyone to figure out.
Bottom line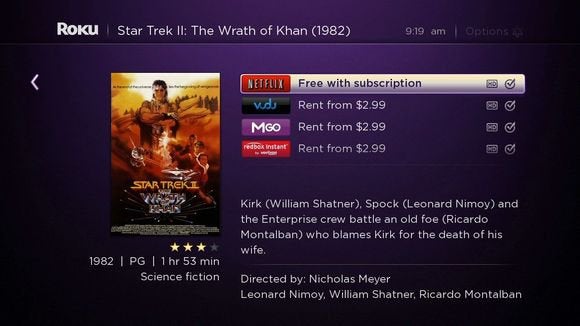 ROKU. The Roku interface and experience are the same whether you're using the Streaming Stick or one of the set-top boxes.
The Streaming Stick is a joy to use—one it was on a Wi-Fi network, the performance was snappy, and the content looked great. The Channel Store is packed with things to watch, from services like Hulu Plus and Netflix that require a separate subscription to plenty of channels that show free content. You could spend hours just browsing the Channel Store—there are nearly 1200 channels total, although you'll probably only watch a dozen or so. But that whole experience is the same as a Roku set-top box, so which one should you get?
I would get the box. The Roku 3 box, while twice as much as the Streaming Stick, makes up for that price hike with its Ethernet port (just in case your Wi-Fi doesn't cut it), the headphone jack on the remote, and the expansion slot—you can sneakernet your own content over on microSD cards or USB drives. But if you don't care about those features, the Streaming Stick is very capable and a great deal.