Ringly review: The smart ring that could be sexier
This smart notification ring is cool, but it's not something you'd buy for style alone.

Not sure how I feel about the size, but here's the Ringly compared to other jewelry. Credit: Sarah Jacobsson Purewal
The Ringly isn't something I can see fashionistas lusting after, and it's certainly not something I'd look twice at on a shelf. But that doesn't mean that I don't like what the Ringly does, even if it's not going to revolutionize runways.
…But it's much more functional than expected
It may not look the part, but the Ringly does a lot of things right. For one thing, it's super comfortable. The band is slim, which is a little cheap-looking, but incredibly easy to wear (if you've never worn a ring with an uncomfortably thick band, consider yourself lucky). I'm easily distracted by uncomfortable jewelry on my hands and wrists, and I found myself forgetting about the Ringly as I went about my day. The Ringly's band is sized (and I'm assuming you can't take this to a jeweler to get it resized), and comes in sizes 5, 6, 7, 8, and 9.

If you squint, you might be able to see the LEDs. Credit: Sarah Jacobsson Purewal
The Ringly has a pinprick-sized LED light on one side, which emits five different colors (blue, green, yellow, red, and pink/purple) for notifications. The Ringly also has an internal vibrating motor, and the Ringly app lets you customize your notifications using the five colors and four different vibrating patterns.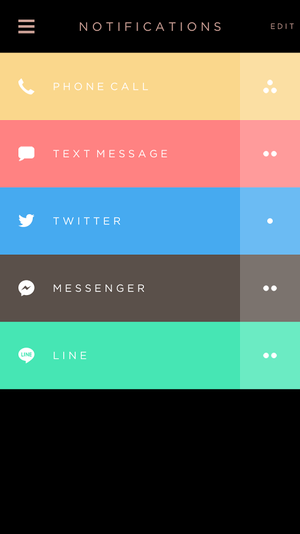 Here are some of Ringly's notification options.
For example, you can set up your Ringly to vibrate once and flash pink for a new email, but vibrate twice and flash pink for a new text. Or vibrate three times and flash blue for Facebook, but vibrate three times and flash yellow for Twitter. This sounds a little complicated, but I found it very easy to get the hang of. Ringly works with more than 80 different apps, including Line, Gilt, Uber, Instagram, and Tinder, and can also be set up to notify you when you get a text or phone call from a specific person.
All Ringly does is notify you—if you want to respond to a text or answer a phone call, you'll need to pick up your phone. It's definitely not an Apple Watch, functionality-wise, but it works well if you're waiting for someone to call or text and you're in a social setting (such as a bar or club) where you can't constantly be checking your phone. For the most part, a quick buzz to your finger is all the information you need if you're waiting for a friend to show up.