Review: Ford's SYNC 3 is more like a smartphone, but there's still room for improvement
A Google-like navigation search feature is a welcome addition to SYNC 3.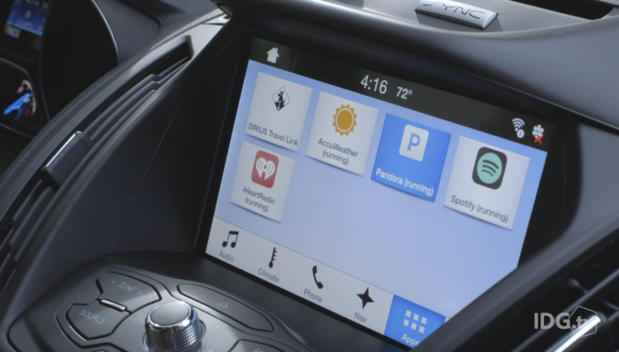 The SYNC 3 apps screen, where some mobile apps are automatically detected from an attached smartphone and displayed for use. Credit: IDG
A stand-out navigation system
As with the previous generation of SYNC, the current one offers hands-free navigation, meaning you can speak the address or point of interest into the system.
The previous SYNC system, however, was hit or miss, and you had to speak the address slowly and precisely -- one... number... at... a... time. Saying something like "four ninety-five Adams Road," would bring up a list of addresses that were everything but where you wanted to go.
I found the new voice-activated navigation system far friendlier, and it was immediately able to discern any address I spoke into it no matter how I said the numbers.
Another standout feature of the SYNC 3 system is One Box Search, a Google-like search window that can look up points of interest or enter addresses in much the same way an Internet search engine would.
For example, if you begin typing the word "restaurant" into the window, by the time you get to "R-E-S", the search term "restaurant" will pop up as a choice on the menu. Selecting it will get you a long list of nearby restaurants to which you can navigate.

The 2016 Ford Escape SE. Credit: IDG
The previous SYNC system required users to input address numbers, street names, and the name of a city all in separate windows before navigation could begin.
SYNC 3 also offers Siri Eyes-Free capability for iPhone users. You simply press down and hold the voice activation button on the steering wheel to ask a question.
By pressing the voice activation button on the steering wheel, you also can use hands-free texting through connected smartphones. I, however, had some issues with my Ford Escape's IVI. After sending a couple of voice-activated texts, the system began telling me there were no messages in my in-box. That may be a glitch in need of a fix.
Another great feature of SYNC 3 is over-the-air software updates using Wi-Fi. You simply park close enough to your home's Wi-Fi router to connect to it and then navigate to the update screen. Previously, owners had to download updates to a thumb drive and plug it into the vehicle's USB port or bring the vehicle to a dealer.
SYNC 3 also comes with an enhanced 911 Assist that provides subscription-free emergency calling in the event of an accident.
Overall, the SYNC 3 system has reduced complexity and prioritized the most important functions, such as navigation, search and smartphone use. While I like the tile-like icons, I do believe they could be made even bigger. My rational? The bigger they are, the easier they are to find.
Previous Page 1 2 3 4 Next Page