Review: Ford's SYNC 3 is more like a smartphone, but there's still room for improvement
A Google-like navigation search feature is a welcome addition to SYNC 3.
Ken Williams, supervisor of HMI product development at Ford, said the company is working with Apple to have the SYNC IVI automatically detect compatible mobile apps, as it can already do with Pandora.
Currently, 14 mobile apps are compatible with the new SYNC 3 system.
SYNC 3 also does not natively support Apple CarPlay or Android Auto, smartphone mirroring interfaces with which your infotainment screen can take on the look of your smartphone along with its mobile apps.
Ford is planning to offer Apple's and Android's API in the future, Williams said, but there's no specific release date.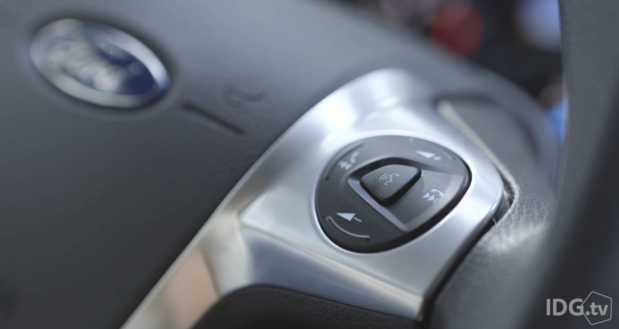 The SYNC 3 system control pad on the steering wheel allows you to use hands-free voice commands or page through selections on the infotainment system's screen using the cursor buttons. Credit: IDG
Shortcomings aside, there have been some significant improvements to Ford's communications and entertainment head unit.
All new hardware
Along with a software change out, SYNC 3 comes with all new hardware, which is based on a dual-core CPU running at 1.7GHz (ARM Cortex 15) from Texas Instruments. The previous SYNC system ran on a single core CPU running at 600MHz (ARM Cortex A8) from Freescale.

SYNC 3 has a new capacitive screen that allows you to swipe or pinch to expand and contract the navigation systems map. Credit: Ford
Believe me, the speed with which the system responds to touch and voice commands is noticeably faster.
Ford replaced its previously resistive touch screen with a capacitive touch screen, offering an experience similar to a smartphone or tablet. Instead if pressing on the screen to activate a function, as with the old system, a light touch produces the same results.
The new screen also has pinch-to-zoom and swipe capability, along with fewer and cleaner graphics. The previous SYNC 2 system's home screen had four quadrants: navigation, phone, entertainment and climate; and each quadrant opened a more detailed menu. The new SYNC 3 has three quadrants -- always on navigation, entertainment and phone. Tile-like icons dominate, with a quick access function tray along the bottom of the screen making for a more straightforward user experience.
I own a 2013 Ford Escape with the SYNC 2 system, which Ford calls SYNC with MyTouch, and I can tell you that attempting to move a GPS map around to see where you're headed is hit or miss -- sometimes it moves, sometimes it doesn't. And, when it does move, it's in tiny increments.
The new GPS map in SYNC 3 tracks more smoothly and displays not only the street you're on, but also the speed limit. Swiping a light finger across the map in any direction instantly sends the map there, too.
Previous Page 1 2 3 4 Next Page