Review: Ford's SYNC 3 is more like a smartphone, but there's still room for improvement
A Google-like navigation search feature is a welcome addition to SYNC 3.
After spending a week with a 2016 Ford Escape with the new Blackberry QNX-based SYNC 3 in-vehicle infotainment (IVI) system, I can say two things: One, the system is definitely better than the previous Windows-based SYNC 2 system; two, it still has a long way to go.
Overall, SYNC 3 has a cleaner, more intuitive feel and far better voice recognition capability with its upgraded Nuance software that enables a more conversational-style human-machine interface (HMI).

The home screen of the SYNC 3 system, which has three quadrants as compared to the previous system's two quadrants. The new home screen has a more smartphone-like appearence with a handy GPS map always on display. Credit: Ford
SYNC 3, however, is not all that smartphone friendly. For one, if you own an iPhone, you'll still need to plug your phone into a USB port to use mobile apps on Ford's AppLink system. Bluetooth wireless connectivity for mobile apps only works with Android smartphones.
When Ford announced last year that it was moving its IVI system away from the Windows Embedded Automotive OS to Blackberry's QNX, it was heralded by pundits as a move in the right direction.
For one, QNX is considered a friendlier platform for mobile app developers, meaning more current and future smartphone applications will more easily integrate with it. Secondly, infotainment systems using QNX have consistently received high reliability and usability ratings from consumer publications. Ford's SYNC system has never been recommended by Consumer Reports magazine.
Lastly, QNX is the predominant telematics system platform in the automotive industry and has already been vetted by such automakers as Audi, BMW, Chrysler, Toyota and Volkswagen, making it an almost de facto standard.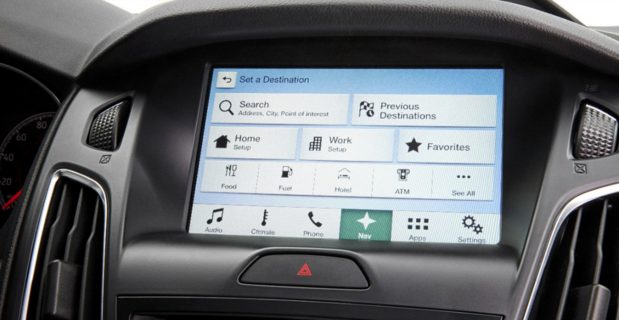 SYNC 3's navigation page where you can preset destinations, such as work and home, add favorite places and even find some of the most common local destinations, such as gas stations and restaurants. Credit: IDG
Ford's SYNC 3 IVI is available on the 2016 models of the Escape, Fiesta, F-150, Mustang and Transit. SYNC 3 will migrate to the rest of the North American lineup of vehicles by the end of 2016.
Some obvious problems
One of the glitches I discovered in using my iPhone 6 with SYNC 3 is that certain apps, such as iHeartRadio and Spotify, need to be launched on the phone before they'll show up on the IVI screen. That's pretty inconvenient. I want to be able to have them simply appear as soon as the phone's plugged into the USB port, and hopefully someday when it's connected via Bluetooth.