Review: Belkin WeMo LED Lighting plays nice with the WeMo system
These bulbs perform solidly and integrate seamlessly into the rest of the WeMo ecosystem.
Let there be light
The WeMo Link will populate the app with all of the installed smart bulbs (in this case, the two that came with the starter kit), giving them handy, descriptive names such as "Lightbulb 1" and "Lightbulb 2." To rename the bulbs, go to More (the three dots in the upper-left corner of the app) > Edit Device and choose the bulb you want to edit. Here, you can rename the bulb or reset the device; in the future you'll also be able to edit the bulb's icon. To check which bulb you're editing, tap Check Bulb, and the bulb will flash three times.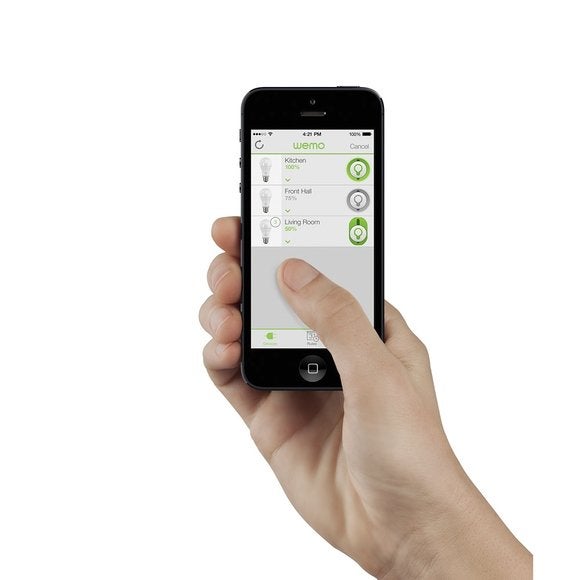 The WeMo app works a little better on iOS than on Android, but you could use either.
The amount of control you have over your new smart bulbs is actually pretty impressive, and similar to what you get with the Philips Hue Lux bulbs. From the main screen of the WeMo app, you can perform basic light bulb-type functions: You can turn the bulbs on and off, individually, by tapping the power symbol next to their device names. You can also tap on the device names to find more options, such as brightness adjustment (from 1 to 100 percent, in 1-percent increments) and a sleep fader, which lets you set the bulb to fade over a period of time (between 1 and 60 minutes).
In the Edit Device screen, you can create groups of bulbs by holding and dragging devices on top of each other. Groups can be handy if you have a chandelier or a series of lights you want to control together. However, once a bulb is in a group, you'll no longer be able to adjust its brightness without adjusting the entire group's brightness, unless you remove that light from the group.
The WeMo app also lets you create schedules, called rules, for each connected device. For example, or you can program a porch light to turn on at sundown and off at sunrise. The Rules screen lets you tweak everything from final brightness to fade-in and fade-out times, so you can program your lights to slowly (or quickly) wake you up in the morning. One premade rule called "Away mode" automatically switches lights on and off daily to trick strangers and/or potential burglars into thinking you're home when you're on vacation.
Rules are where buying into Belkin's WeMo ecosystem really pays off, because you can connect your various WeMo devices and have them work together. For example, if you have a WeMo Netcam, you can tap into its motion sensor capabilities to have your lights turn on when you enter a room.