Review: Belkin WeMo LED Lighting plays nice with the WeMo system
These bulbs perform solidly and integrate seamlessly into the rest of the WeMo ecosystem.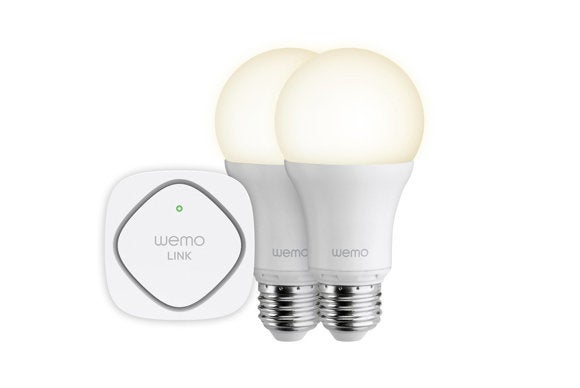 I'm definitely the kind of person who accidentally leaves the lights on...as I'm leaving town for 10 days. Oops. But smart light bulbs are here to help me (and fellow forgetful electricity-wasters) out--because with Belkin's WeMo LED smart bulbs, you can turn my lights off (or on) from anywhere in the world.
Belkin's WeMo LED Lighting Starter Set costs $100 and comes with two smart LED bulbs and a WeMo Link, a small, white connector that plugs into your wall and lets you control your smart bulbs over Wi-Fi. Additional bulbs can be purchased for $30 each, which is about 10 times the price of a 60-watt CFL bulb, but on par with other smart bulbs (Philips Hue Lux bulbs cost $30 too).
The WeMo smart bulbs give off warm, bright light similar to that of a 60-watt incandescent bulb, and have a life expectancy of 23 years, based on 3 hours of daily usage. The company claims that these may be "the last light bulbs you ever buy," but I hope that's not true--in 23 years, I'll only be 50.
Getting started
Setting up the WeMo LED Lighting Starter Set is--jokes aside--almost as easy as replacing a light bulb. The box comes with a printed quick-install guide, but you can also download the WeMo app (available on Android and iOS) for an onscreen walkthrough.
First, you plug in the WeMo Link--it's a bit larger than your average phone charger and will definitely obstruct any outlets below it. The Link needs to be in a relatively central location in your home, because it needs to be able to access both your Wi-Fi signal and the smart bulbs it will be controlling. Not sure if your Link is central enough? Pull out your smartphone (or tablet) and check its Wi-Fi signal--if you have two bars or more, you're good. One Link can control up to 50 smart bulbs, which should be plenty for the average American household.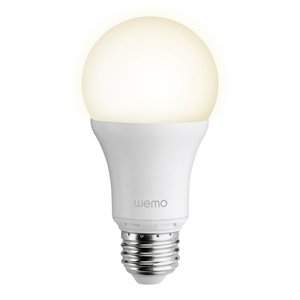 How many nerds does it take to screw in a lightbulb? Hopefully just you.
After you plug in the Link, you should install the smart bulbs. The smart bulbs are normal bulbs, so installing them is a simple as...screwing them in. You will want to make sure that the lights are all switched on, and remain that way, so you can control them from the app.
If you haven't already, you should now download the WeMo app, which will walk you through the rest of the process. You'll connect the WeMo Link to your Wi-Fi network by connecting your smartphone to the WeMo network, and then logging into your Wi-Fi network through the app. Once that's done, your Link will automatically detect all of the smart bulbs in the area. You can install the app on multiple smartphones and tablets, so everyone in your household will have access to the lighting controls.