Report: Microsoft could debut Xbox One game streaming stick and 'Xbox TV' at E3
We'll find out next month if the rumors are true.
If a new report is to be believed, Microsoft could debut a pair of streaming devices at E3, both of which could be used to remotely play Xbox One games on another TV within the home.
Petri's Brad Sams said he believes that Microsoft will debut a Chromecast-like media stick at E3, optimized for streaming Xbox One games remotely, as well as a Roku-like, stripped-down version of the Xbox One that could play some basic UWP apps from the Windows Store. Sams puts the price of the Chromecast-style device at about $100, and the Roku-like "Xbox TV" at about $150 or so.
Microsoft representatives officially declined to comment on rumors and speculation.
Why this matters: Without going into specifics, the word I'm hearing is that at least one of these devices probably won't happen. But both offer some interesting justifications for their existence: Since the $349 Xbox One is the lowest-priced living room product that Microsoft is currently selling, there's certainly room for lower-cost options. Microsoft also has an incentive for promoting its digital assistant, Cortana, into more and more platforms
Streaming video as well as games
Both devices, Sams speculates, could be used to stream Xbox One games from the console to other devices within the home—a capability that's been available from within the Xbox app on Windows 10 devices for some time. Microsoft's shown that capability on conventional Intel Core-based PCs, though, which are far more powerful than the embedded processors found in media streaming sticks.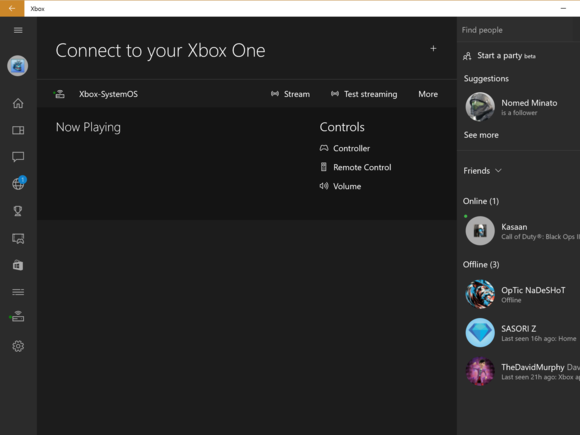 You can use the Xbox app within Windows 10 to connect to and stream games from the Xbox One. Credit: Mark Hachman
On the other hand, Sony currently streams PlayStation 4 games from the console to phones like the Xperia Z2, which use a conventional (but powerful) Qualcomm Snapdragon 810 chip. It seems more likely that any streaming stick would use a variation of Intel's Atom processor—and what Intel's shown in the past seems barely competent—but it's a theoretical possibility, at least.
Sams, as well as Tom Warren at The Verge, speculate that a second, Roku-like device could also debut, providing the ability to play some UWP games from the Windows Store. (Basic game-playing capabilities are also built into streamers like the Roku 3.)
It's a little more difficult to see what Microsoft would hope to gain here. Media streamers are fairly common these days, and Microsoft offers really nothing of note among low-end UWP games to entice consumers. Besides PCs and the Xbox One, however, Microsoft offers no inexpensive way (beyond picking up an older Xbox 360) to rent Microsoft-provided movies and TV shows—still, with a dearth of original content, consumers can easily find those shows anywhere else.