Ready, set, overclock your budget Skylake CPU!
Asrock rolls out a BIOS to overclock cheap chips, and others are expected to follow.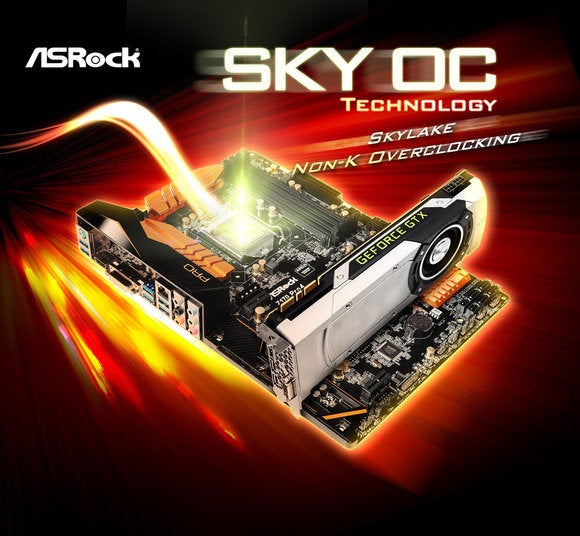 Credit: Asrock
Budget PC builders, here's your holiday bonus: Motherboard maker Asrock has just released its "Sky OC" BIOS for its Skylake motherboards, so even folks without pricier CPUs can overclock their chips.
In a blog post on Wednesday, the company called the BIOS "an alternative for users to overclock any Intel Skylake i7/i5/i3 or even Pentium non-K CPUs on their Asrock Z170 motherboard." It comes at a good time, because in addition to enabling these budget overclocks, Asrock notes that the pricier "K" CPUs are in short supply right now.
Why this matters: Until now, Intel has restricted overclocking to its more expensive "K" CPU models. With the redesign of its Skylake chips, however, a backdoor overclocking method became available that's now being exploited by motherboard makers. This is truly a present to budget-strapped gamers, though as always, you should tread carefully.
CPU hack becomes public
After teasing its backdoor overclock last week, Asrock has made the cheap-chip hack public. "Lab tests show that the once-not-overclockable Intel Core i5-6400 CPU can now be overclocked up to a 60% frequency boost with Sky OC on Asrock's Z170 Pro4," Asrock said.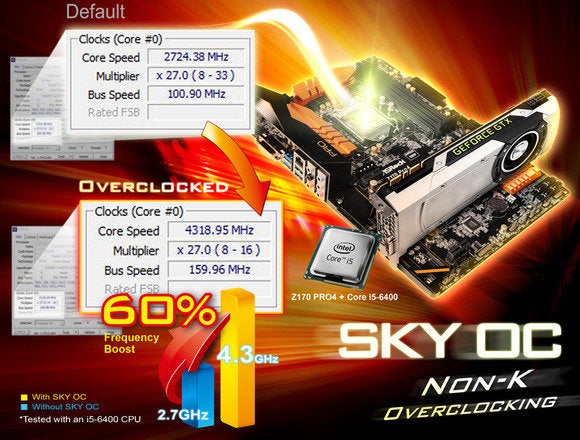 Asrock's Sky OC enables overclocking of all Skylake CPUs and not just the pricier "K" chip variants. Credit: Asrock
Asrock's overclock comes with a few caveats: The integrated Skylake graphics must be disabled, as must the Turbo Ratio and C-State. These things largely don't matter, however, because discrete graphics are nearly universal among overclockers. Overclockers also aren't apt to be concerned about the low-power C-State or Turbo Ratio.
The one serious catch is that you won't be able to do the overclock on the cheapest motherboards. Only boards with the pricier "Z" series chipset will support it.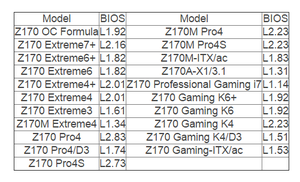 These boards support Asrock's Sky OC trick, which lets you overclock Skylake CPUs that aren't normally overclockable.
Asrock gets bragging rights for being the first out of the gate with a public BIOS to support the overclocking "hack" on cheap Intel Skylake chips. Motherboard makers all play in a copycat league, though, so expect competitors to catch up quickly.
The only thing that really ruins this party is Intel. Intel's only public comment on this overclocking cheat is that it doesn't condone overclocking CPUs that aren't intended for that.
That could be read as "we don't care as long as you don't blame us when you melt your chip," or it could also mean "we'll soon put a stop to this." We'll keep an eye out and keep you posted.