Rand Paul sweet talks crowd at SXSW, tries to woo techies and millennials
Paul talked Snapchat, privacy, and net neutrality during his tech-centric interview, that was definitely not part of a pre-election ramp up (wink wink).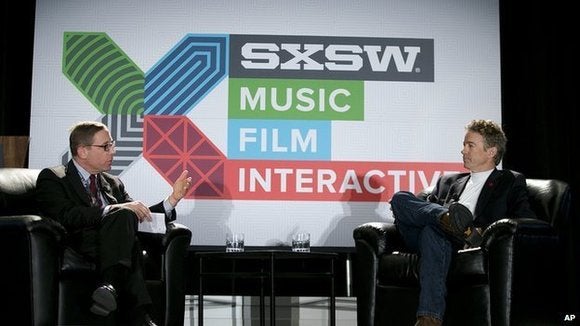 You know we've reached peak South by Southwest when a Republican senator from Kentucky chooses that event as the launch pad for his personal brand. (Ok, maybe it is pretty fitting after all, seeing as it's a giant launch pad for anything and everything you can think of.) Senator Rand Paul took the stage on Sunday to talk tech shop with moderator Evan Smith from the Texas Tribune.
He didn't use the panel as an opportunity to announce a presidential campaign for 2016, but he kind of hinted that it would be coming around the corner. His actions scream of candidacy: He just opened an office in Texas, he's experimenting with social media, and he's making the press rounds. He certainly knew how to butter up the crowd in Austin.
"Tech people are interested in progress and bipartisanship, so we feel right at home here at South by Southwest," he said, adding that he didn't think techie voters easily fit into a political party's box since they tend to think for themselves and play by their own rules.
Paul wants to connect with the tech community (you know, for votes), and he thinks he's found a platform that can help him do that. He's pro privacy and anti net neutrality, and he'll be telling us all about it via Snapchat.
Go where the kids go
Just a few days before his SXSW appearance, Paul discussed his Snapchat presence with Politico's Mike Allen, and he mentioned it again in Austin. (Sheesh, maybe we've reached peak Snapchat, too.) Snapchat is just one part of his plan to reach voters in the highly sought-after "under 30" demographic--Snapchat has a huge number of users between the ages of 18 and 24, so Paul wants engage with them to see if he can wrangle up potential voters.
"A huge part of campaigning is reaching the people," Paul said, "and people are already on Snapchat, so it's just a matter of going to where the people are." He also acknowledged that Snapchat has a ton of users that are under the age of 18 now, but will be 18 by the time 2016 rolls around.
On privacy (and a bit of Hillary Clinton bashing)
Surprisingly, Paul seems to side with Edward Snowden--he mentioned Snowden a few times when the conversation moved towards privacy, which Paul is a champion of. Paul believes most young people (again, with the under 30 demo) will want leadership that believes in privacy, especially when it comes to mobile devices and data collection.
"Every young person communicates via phone 100 times a day, and none of them would want the government to collect these records," he said, adding that because teenagers hate when their parents spy on them, they're likely to want a less-prying government.