President Trump: An uncertain future for tech industry, digital rights
The new president's tech policy agenda is thin, and what little there is makes IT nervous.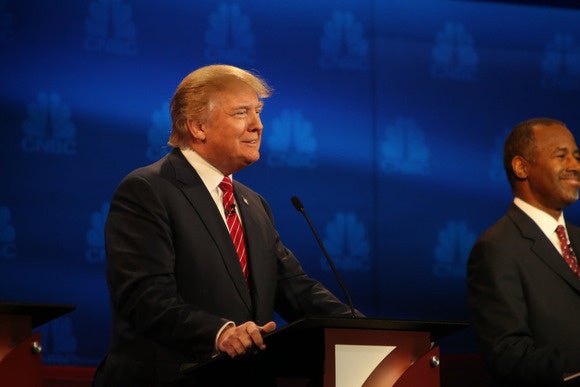 U.S. President-elect Donald Trump's vision for the country's economy-driving technology industry is largely a blank canvas, and when he's dipped his toe into IT issues, he's made people nervous.
Trump's campaign was dominated by debates over illegal immigration, lost manufacturing jobs, and character issues. Silicon Valley firms largely opposed Trump, and one of his signature issues, rewriting free trade deals between the U.S. and other nations, likely will hurt U.S tech companies' ability to sell products overseas.
Meanwhile, digital rights groups say they expect Trump to call for expanded government surveillance programs to fight terrorism and fewer protections for privacy. And a Trump administration will likely work to gut net neutrality rules that the Federal Communications Commission passed only last year, although repealing the rules won't be easy.
Several tech groups congratulated Trump on his unexpected victory, but others said they're concerned about Trump's lack of a tech agenda and his call for a boycott of Apple when it refused to assist the FBI to break into the iPhone of a criminal suspect.
"I am not thinking of anything to be optimistic about" after Trump's election, said one tech trade group executive on background.
Expect Trump to call for backdoors in encryption, based on his Apple comments, said Chris Calabrese, vice president of policy at the Center for Democracy and Technology. And Trump's plan to identify and deport some or all illegal immigrants could lead to invasions of privacy, he said.
Still, some of Trump's more conservative supporters could push for increased privacy protections in their advocacy for the Constitution's Fourth Amendment protections against search and seizure, Calabrese noted. Trump's policy on privacy is unclear, and it's not known who his major appointees will be, he said.
"We just recognize that the next four years could be very challenging, and it's up to us to explain to the American people why internet freedom and the things we value are important to them," Calabrese added. "Anything of value has to be fought for sometimes."
Like digital rights groups, the tech industry has a lot of questions about Trump's policies, said James Reid, senior vice president of government affairs at the Telecommunications Industry Association, a trade group representing network equipment manufacturers and suppliers.
Trump released little information about his tech policy agenda during the campaign. He gave one speech about cybersecurity in October, with some of the positions echoing things already being done in government. Trump published a four-point, 179-word plan on cybersecurity at the same time.
Only on Election Day, the Trump team added the word, "telecommunications," to his website's plan for government investments in U.S. infrastructure, according to the TIA. There are no details.