PCs share the love—and the games—with consoles
Oculus Rift. Arma III and DayZ. Razer Edge. Indiecade. PC games and hardware abounded at E3, and the cross-platform push means there's more fun to come.
That level of accessibility has made the PC a bastion of indie gaming. Sure, there are a handful of PlayStation 4 indie titles to keep an eye on, but the IndieCade showcase in the South Hall is dominated by a massive roundtable of laptops, all running games created for computer lovers. While the consoles complicate indie game development with regulatory hoops and massive update fees, PCs keep it simple—and thanks to that, look for the small gems to keep shining on computers for a long, long time.
Hardware shines at E3
Perhaps the most intriguing part of the IndieCade occurs away from the roundtable: Four games have popped up with Oculus Rift support, giving showgoers a chance to truly get in the game with the hot Kickstarter-backed technology. I had a chance to go eyes-on with a new 1080p consumer prototype of the VR headset here at E3, and I have to say, the Oculus Rift is looking mighty impressive from both a hardware and a software standpoint.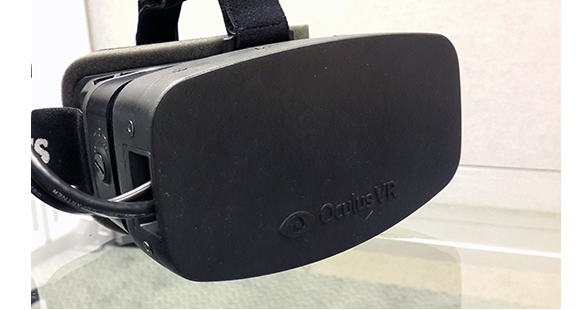 BRAD CHACOS. Oculus Rift's new 1080p VR headset-what can we say, other than awesome!
As a matter of fact, while dedicated PC games may have been hard to find on the E3 floor, PC hardware was out in full force. From 5GHz processors to water-cooled rigs to peripherals galore and all the stuff Nvidia is doing, you can't say the nuts and bolts are being ignored this year. Want proof? Check out our slideshow of all the hot PC gear at E3 2013. (There wasn't a Steam Box to be seen, alas.)
PCs and consoles can finally share the love
Taking a step back for a moment, the state of PC gaming leaves me with mixed feelings at E3. The focus on indie games and killer hardware is definitely rad, and the handful of PC exclusives out there is impressive. The fact that so few marquee games are playable with a keyboard and mouse, on the other hand, is a bummer. You can't help but shake the feeling that the PC is playing second fiddle to consoles at E3.
But, to be fair, that makes sense—E3 has always been console-centric, and the Xbox One and PlayStation 4 were both announced this year. Even if EA and Ubisoft are thrusting gamepads rather than mice into the hands of players at E3, the fact remains that a slew of marquee titles are definitely being brought to the PC.
In five years, when the Xbox One and PlayStation 4 are getting long in the tooth, we may bemoan the fact that their x86 architecture makes it easy for developers to port titles between them and the PC so easily. But for today, at least, that ubiquity means many of the biggest games out there are coming to computers—as are a handful of complex, killer PC exclusives, a bunch of innovative hardware, and an avalanche of quirky, fun indie games. And don't forget that top-end PC hardware already outshines those shiny new consoles.
Ports? Meh. But once you leap that mental hurdle and dig under the console-centric surface of E3, it becomes clear that for the foreseeable future, PC gamers will be able to have their cake and frag it, too.
Previous Page 1 2 3