PCs share the love—and the games—with consoles
Oculus Rift. Arma III and DayZ. Razer Edge. Indiecade. PC games and hardware abounded at E3, and the cross-platform push means there's more fun to come.
Fate has a rep for being the most fickle of mistresses, but the highs and lows of destiny can't come close to touching the whirlwind of emotions generated by the state of PC gaming at E3.

BRAD CHACOS. The Razer Edge was one of many shiny, new gaming PCs showing off at E3 2013.
On one hand, PC hardware and PC games alike were at the show in abundance. Seriously—there was a flood of computer-related wares tucked into every nook and cranny of the show, and many of the major games announced this week are headed to our hallowed PC shores. Good times!
But on the other hand, you had to really dig to find playable PC gems on the show floor. The vast majority of those triple-A PC games, you see, are also destined to land on the Xbox One and PlayStation 4—and it was the next-gen versions of those games that earned top billing (and exclusive in-game extras) at E3 despite the PC's graphical superiority.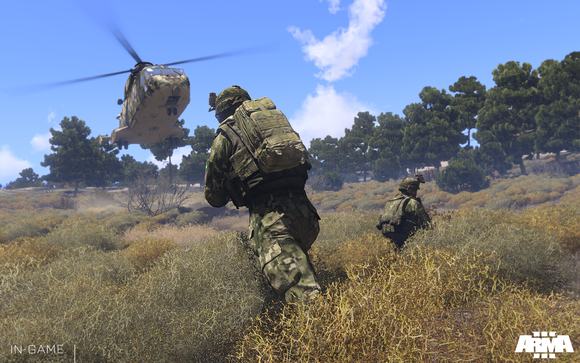 BOHEMIA INTERACTIVE. Arma III's beta was one of the playable PC-gaming highlights at the show.
PC-only exclusives were indeed rarer than a rational fanboy, but there were a few to be found—and when we did find them, they were glorious.
Let's dig in.
Console cross-platformitis
Both Microsoft and Sony ditched the IBM processors found in the current generation of consoles in favor of x86 chips for the next round—basically making the Xbox One and the PlayStation 4 glorified, living room-ready PCs.

BETHESDA. Elder Scrolls Online is one of the games that will launch cross-platform for both PCs and consoles.
The bad news: We're going to see a flood of console ports. No less than a dozen triple-A, computer-bound cross-platform titles were announced the day before E3 began, and the promiscuous PC games kept coming once the show began. Plants vs. Zombies: Garden Warfare, The Evil Within, Outlast, Payday 2, and many, many more are coming to PCs and consoles alike.
Even PC stalwarts are spreading the love. The latest Wolfenstein, Company of Heroes 2, The Elder Scrolls Online, and The Witcher 3: Wild Hunt are landing on consoles as well as PCs right from launch. And who can blame them? Developing a big-name game costs mucho dinero, and considering how easy it will be to spread port games to PCs and x86-based consoles alike, developers would almost be crazy not to go cross-platform if they have the opportunity.
How ports could finally be good for PCs
But wait! Before your lips curl and you start sneering "Portsssss" with disdain, consider that all the cross-platform action has some major upsides for PCs, too.