Panasonic announces Nubo, a 'Dropcam killer' at Mobile World Congress
The Nubo IP security camera can run in locations where Dropcam can't, but it won't be available in the U.S. until 2016.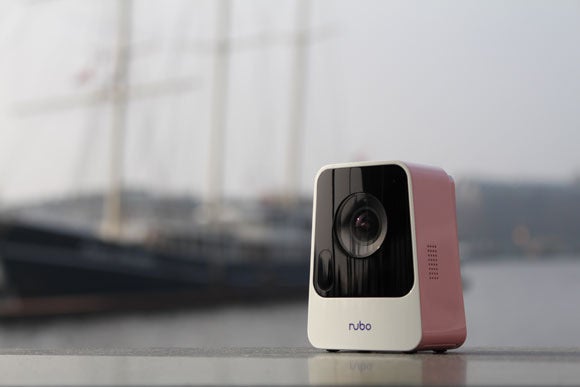 If you want to see a reporter's eyes roll, open your product pitch by saying your new widget is a "[insert name of longtime category leader here] killer." So my eyes rolled hard when Panasonic's PR representative told me the company would announce a "Dropcam killer" at Mobile World Congress this year.
My reaction, as it turns out, might have been off the mark. If Panasonic delivers everything it's promising with its Nubo security camera, it could very well knock Google's Dropcam off its perch. There's just one hitch: Panasonic doesn't plan to ship the camera in Europe until the fourth quarter, and it won't be available in the U.S. until the first quarter of 2016.
So what makes the Nubo so cool? First and foremost, it doesn't rely solely on Ethernet for Internet connectivity, so you can set up the camera in a much wider variety of places. The Nubo ships with a SIM card and a 4G data plan in addition to Wi-Fi (802.11b/g/n) support. Part of the reason the product won't be available in the U.S. until next year is that Panasonic hasn't signed a contract with a 4G carrier in the U.S. (Vodaphone will be its service provider in Europe). The 4G data plan will require an optional monthly subscription, but fear not, the camera won't be useless without it (more on that later).
Onboard storage and other features
There's onboard storage for video clips and images, thanks to a microSD card slot that supports super-capacity SDXC memory cards. Those cards can store up to 2TB of data. But before you get too excited about all that capacity, know that you can't buy a 2TB microSDXC card today, a 512GB card costs more than twice as much as the camera, and no card will be bundled with the camera (that last bit's not that big of a deal). The camera runs on AC power, but Panasonic will also offer an external USB battery pack that will give you the option of taking the camera on the road to monitor your car, your hotel room, or even your campsite.
Unlike the Dropcam, the Nubo will be weatherized for both indoor and outdoor use. While the enclosure will be made primarily from plastic, Panasonic says it will carry IP-66 certification to prevent the incursion of dust and water (you'll be able to hose it down without worrying that water will get inside). The lens itself is fabricated from glass and delivers a 140-degree field of view.
As you'd expect of a camera in this class, the Nubo will have infrared illumination for night vision, and a passive infrared (PIR) motion sensor. When motion is detected, the camera captures snippets of video and uploads them to the cloud. An algorithm on Panasonic's servers will analyze the video clips to determine if the detected motion was caused by a human being or something else.