Oregon Scientific Pro Weather Station WMR89A review: A solid option for casual observers
This weather station doesn't have a lot of flashy features, and there's no mobile companion app; but many will find its low price tag compelling.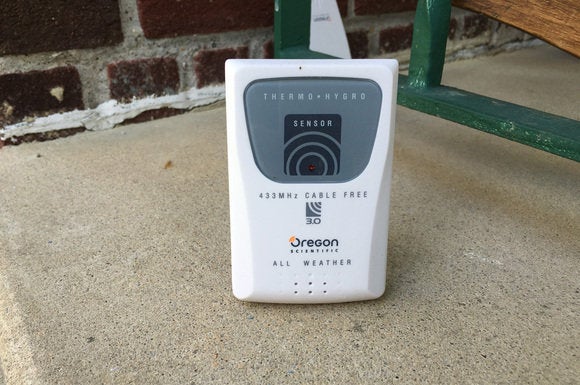 The wireless temperature sensor can be placed just about anywhere, although we recommend you make sure it stays out of direct sunlight. Credit: Ed Oswald
No data upload also means no app—once again, odd considering its line of Weather@Home stations can do this (although through Bluetooth only), and are less than half the price. The WMR89A's software woes are its biggest shortcomings, and they're one of the chief reasons why we prefer the Netatmo system despite its much higher price tag (when you add up the base station and the add-ons needed to match the Oregon Scientific system).
Final thoughts
Looking past the software issues, the WMR89A is by and large enough to satisfy a casual observer's desire to keep an eye on the weather. The lack of good software, however, prevents us from recommending the station to anyone looking for more than that.
We do like the added potential for a UV sensor—an option typically found only on stations two and three times its price—and the fact that the sensors are all in their own housings. Most stations at this price point (and even some above it) have gone to an all-in-one package, and if one sensor goes you're replacing the entire instrument package. That's much of the cost of these weather stations.
Fix the software issues, and there's little to find fault with. In fact, the WMR89A offers more than most its price; with good software, it would be hard to pass up.
Previous Page 1 2 3