Oregon Scientific Pro Weather Station WMR89A review: A solid option for casual observers
This weather station doesn't have a lot of flashy features, and there's no mobile companion app; but many will find its low price tag compelling.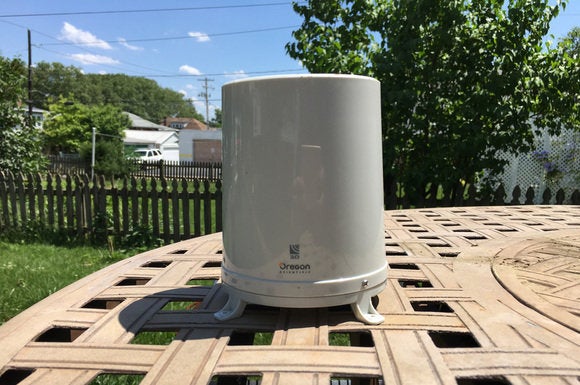 The rain gauge was generally accurate and often matched up well with other local weather station reports. Credit: Ed Oswald
Temperature measurements during our test were generally accurate and within plus-or-minus two degrees of the National Weather Service station we used as our control. Humidity was another matter. Our tests showed humidity readings to regularly be about five to 15 percent of; the differences were even more pronounced in humid conditions.
Other sensors fared much better. The WMR89A's rain gauge uses a tipping mechanism to measure precipitation by weight. We did notice the gauge often undermeausured precipitation, especially in heavier rain (a common problem with tipping-style rain gauges), but the variance was never more than five percent or so from the control station, a level we consider acceptable.
We also prefer Oregon Scientific's wind gauge, which uses the traditional cup and vane method, over Netatmo's sonic wind gauge. We found the WMR89A's wind readings to be more accurate with the , and it was less prone to problems resulting from severe weather conditions.
Although we didn't get to test it, Oregon Scientific also sells a UV sensor that is compatible with this system—a rare option for stations in this price range. If you have a use for it, it's $50, although from time to time the company gives it away for free if you purchase the station directly from them.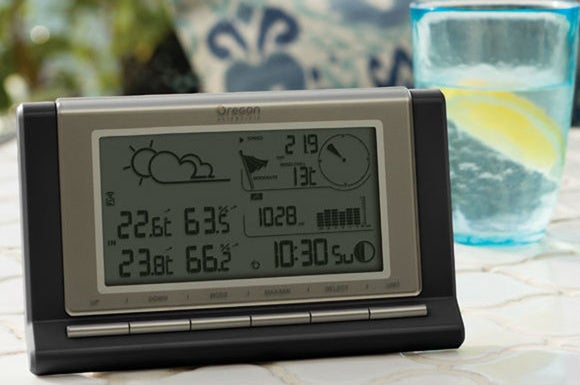 We really liked the WMR89A's desktop console, which also has the capability to store up to a week's worth of historical weather data. Credit: Oregon Scientific
The software
The station console itself has the capability to store up to a week's worth of data in hourly increments, which you can view on the console itself. If you want to archive this information, you'll need Oregon Scientific's Windows software. This software is free, and the USB cable you'll need to connect to your computer is included in the box.
The software is a bit clunky. While it gives you ways to display historical data through graphs, it's severely lacking user friendliness. Some options are overly complicated, yet the interface sometimes too simple. I found myself struggling to figure out how to use it since there's little instruction.
There's also no way for you to take this data and use it elsewhere, say through a third-party app or a service such as Weather Underground. The WMR89A is incompatible with third-party software, and there's no way to upload data to the Internet—an odd omission considering earlier models were at least compatible with third-party software as a workaround.