Orb Audio Complete Home Theater System review: A pint-sized, upgradeable music and home-theater marvel
Orb Audio's Complete Home Theater offering is a US$999, 5.1-channel system aimed at people who care more about music and movie soundtrack quality than getting all the most recent audio bells and whistles.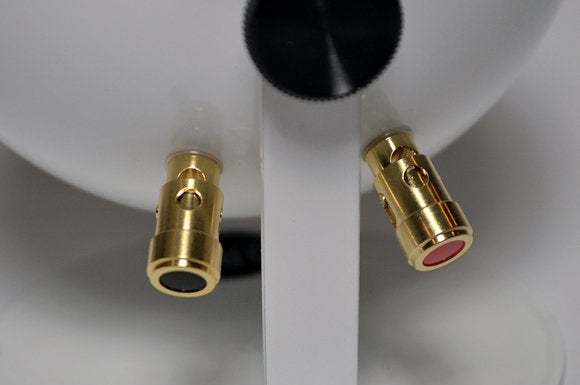 Orb Audio's speakers have the best binding posts of the models reviewed for this roundup. Credit: Theo Nicolakis
Orb Audio's highs and lows with music
I kicked things off with the Star Wars: The Force Awakens soundtrack. From the first notes I played, I was immediately taken by the good sense of space, depth, instrument separation, and neutral presentation. The speakers almost disappeared.
Brass instruments on the track "Main Title and The Attack on the Jakku Village" were well rendered, with nice overall extension. Strings were delicately presented, and the system's timbre sounded natural with little coloration. The Orb setup presented just about every instrument well, with the notable exception of percussion.
Drums didn't have their authoritative weight or commanding presence. In fact, bass notes consistently suffered in my room. I ultimately attributed this to the small size of the sub given the overall size of my room. To make sure I wasn't missing anything, I even moved the sub around and re-ran Denon's room correction to make sure that the issue wasn't anomalous sub placement or bad calibration. That didn't make a major difference. You could add a second sub, but if you want really deep bass, you'll probably just want a more powerful one.
The top end of the percussion range was respectable, but lacked sizzle. In Loreena McKennitt's live album, From Istanbul to Athens, for example, there's a cymbal strike about 1:08 into the opening track, "The Gates of Istanbul." The characteristic sparkle, detailed decay, and real-life presence that you get on more-expensive speaker systems just wasn't there with the Orb system.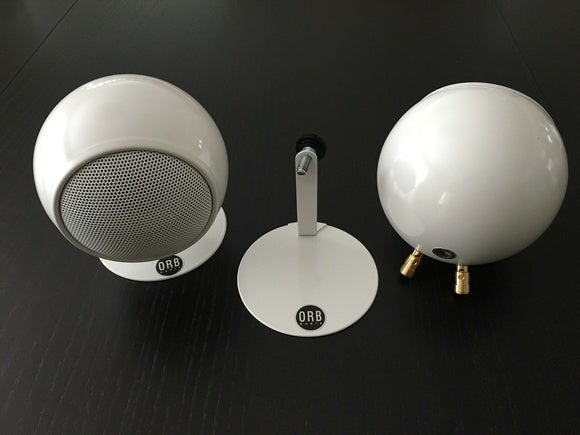 Remove the stands and you can mount Orb's speakers to wall- or ceiling-mount hardware. Credit: Theo Nicolakis
Movie performance
I threw in Mad Max: Fury Road on Blu-ray to see how the Orb Audio system would fare. It was an intense sensation from the start. The individual channels bonded together to form a seamless sound field—just as you'd expect using perfectly matched speakers.
The Orb system masterfully reproduced the opening scene with Max's center-channel soliloquy flanked by haunting voices that danced around my head. Voices were consistently crystal clear, and I never had any problems understanding dialog.
As good as the Orb Audio experience was, I much preferred the experience that the Dolby Atmos-enabled Onkyo HT-S7700 HTIB delivered. Even though the Orb speakers sounded more natural and less colored, the Onkyo delivered a bigger and more impactful audio experience. Orb's speaker upgrades might help here, but you won't be able to add Dolby Atmos without also upgrading the receiver.
Previous Page 1 2 3 4 Next Page