Orb Audio Complete Home Theater System review: A pint-sized, upgradeable music and home-theater marvel
Orb Audio's Complete Home Theater offering is a US$999, 5.1-channel system aimed at people who care more about music and movie soundtrack quality than getting all the most recent audio bells and whistles.
Orb's subMINI is as tiny its name implies, but boasts frequency response down to 32Hz, thanks to the sub's dual-port design. That's quite respectable for a 6.0-inch driver. You just won't get the full impact from the depth charges in the movie U-571. On the other hand, the Denon receiver is the only one in this roundup that's capable of driving two self-powered woofers that you could place in different areas of your room.
One feature that sets Orb's system apart from the competition is the option to upgrade to a speaker array by connecting additional speakers to each channel. Orb says this will deliver fuller high- and mid-range frequencies because the drivers will work together as a single source to increase sound pressure levels to the listener. An Orb Mod2X upgrade consists of two speakers per channel, while a Mod4X upgrade consists of four speakers per channel. An Orb spokesperson tells us there's no need to worry that the resulting reduction in impedance presented to the amp will damage the receiver.
These optional upgrade kits include stands to accommodate multiple speakers and jumper wires that clip the two speakers together and connect the two sets of binding posts. You can also order the speakers with upgraded finishes, at additional cost: Hammered Earth is a $75 upcharge, while the steel, copper, and bronze finishes tack on an extra $150. If you're looking to match a particular look in your room, Orb has you covered.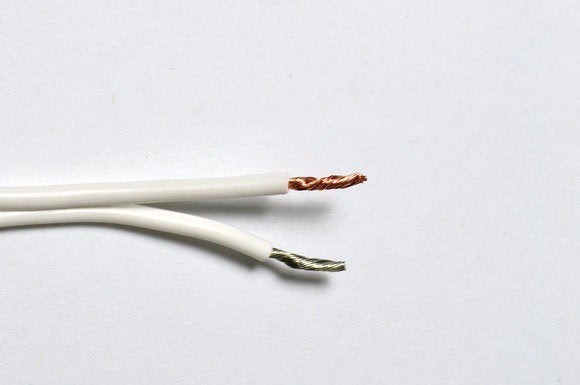 Orb Audio's all-white cables are easier to hide than most, but pay attention to which color wire you're connecting to the positive and negative terminals on the speakers and the receiver. Credit: Theo Nicolakis
Setup: don't be confused by the wires
Orb Audio's system was easy to set up, but it requires some attention and you'll need a good pair of wire strippers because the speaker cables are thicker and of better quality than you might expect of an entry-level system.
Once you strip the white insulated jacket from the ends of the cables, you'll see that one wire is copper and the other is silver in color. There's no functional difference between the two wires, but if you connect one end of the copper-colored wire to the positive terminals on the speakers, make sure you also connect the copper-colored wire at the other end to the positive terminals on the receiver. Orb's wiring solution is less fool-proof than what some of the other manufacturers provide, but it's all-white color will probably be easier for you to hide.
With my speakers set up, I followed Orb Audio's included instructions and set the volume on the subwoofer to the half-way mark. I then plugged in the included calibration microphone and let the Denon's room-correction solution do its magic. Calibration went without a hitch and after several minutes I was ready to rock.
Previous Page 1 2 3 4 Next Page