Optoma NuForce BE6i wireless in-ear headphones review: You won't believe they're Bluetooth
The aluminum enclosures are pretty and all, but it's the sound that makes these headphones worth the price of admission.
There was a time when listening to music through Bluetooth headphones was akin to listening to MP3s: If you really cared about music, you just didn't do it. The fidelity of the MP3 files will never get any better, but the quality of audio streamed over Bluetooth has improved in leaps and bounds. Case in point: Optoma's NuForce BE6i wireless in-ear headphones.
These aren't super-high-end buds—there's a single 10mm full-range driver for each ear—but they deliver very good performance for $129 (available from Amazon). Part of that can be attributed to their support for the AptX codec. The BE6i's drivers are housed in barrel-shaped enclosures attractively fabricated from aluminum and are very light in weight: just 0.6 ounces according my postal scale. The BE6i are probably more water resistant than they need to be, with an ingress protection rating of IPX5. That means they're protected from water jets, so they'd probably survive if you forgot to take them out before you hit the shower after a workout. The X before the 5 means they're not certified for protection from dust.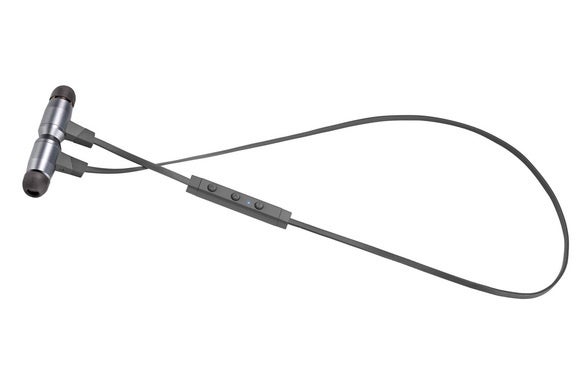 Magnets hold the two buds together to prevent the cord from tangling while in storage. Credit: Optoma
A 23-inch rubber ribbon cable connects the two earpieces, which attach together with magnets when you're not using them. An inline control module has mic, a status LED, and three raised multi-function buttons that are easy to locate with your fingertip. Briefly squeeze the top or bottom button to raise or lower the volume respectively. Holding these buttons down for two seconds moves you up and down your track list on a paired smartphone or digital media player. A short squeeze on the middle button toggles between play and pause, while a long press powers the headphones off. The middle button is also used for managing phone calls, with a quick squeeze answering a call—or terminating one in progress.
I didn't think the BE6i would be comfortable for long listening sessions at first, because they have a somewhat large ear tube, but changing ear tips remedied that situation. Optoma provides six pairs of silicone tips to accommodate different ear sizes, plus two pair of Comply memory-foam tips; it was the medium Comply tips that changed my mind. They were much more comfortable and provided better isolation from ambient noise than the house tips (these headphones don't offer active noise cancellation). Optoma also provides a carrying case, a stubby USB charging cable (but not a USB power adapter), a retainer clip, and one pair of ear hooks to prevent the headphones from falling out while you exercise (I didn't evaluate these).