Onkyo HT-S7700 review: An easy-to-set-up home theater in a box with Dolby Atmos
This home theater in a box includes just about every modern feature you could want in a budget-priced system.
Midrange frequencies, on the other hand, came across a bit dark and muddy. Flutes especially lacked their delicate air. Comparing the Onkyo to Orb Audio's Complete Home Theater, the Orb setup sounded much more open and nuanced. The guitar at the opening of U2's "Song for Someone" from Songs of Innocence lacked a natural, full-bodied presence on the Onkyo system, and I missed the delicate sense of fingers striking the guitar strings. Comparatively speaking, through the Orb Audio setup I had a much better sense of the guitar's body and its individual strings being pucked and strummed.


Onkyo's receiver delivers the most flexibility connecting outboard audio and video equipment. Credit: Onkyo
This system shines with movies
To take full advantage of the Onkyo's Dolby Atmos audio capabilities, you'll need a Blu-ray player and a Blu-ray movie mastered in Dolby Atmos. Thankfully, the number of Dolby Atmos movies being released is increasing each month. I gave the Onkyo a serious workout with Mad Max: Fury Road.
I had the opportunity to see this movie in the theater as well as review it as part of another, much-higher-end Dolby Atmos setup. Consequently, I knew this movie well and felt it would be a perfect test. Firing up Fury Road I immediately noticed that the Onkyo makes it a point to try and envelope you with sound with a very aggressive approach to reproducing the surround mix. Given the potential target audience, I think this will go over favorably. If you're new to surround sound, you probably want to hear every speaker getting a workout.
Because of the Dolby Atmos-enabled speakers, the front part of the room plays much larger and deeper than you might expect given their size. While those speakers were no substitute for discrete, in-ceiling speakers, they did contribute positively to the overall experience. What I missed, in comparison with higher-end Dolby Atmos systems, was any sense of depth behind my listening position. That's to be expected, of course because you can't connect rear height speakers to this system.
That minor quibble aside, I did find it quite remarkable—if not uncanny—how clear and clean the Onkyo rendered the dialog in this movie. I've auditioned comparable systems that did a terrible job of reproducing dialog clearly.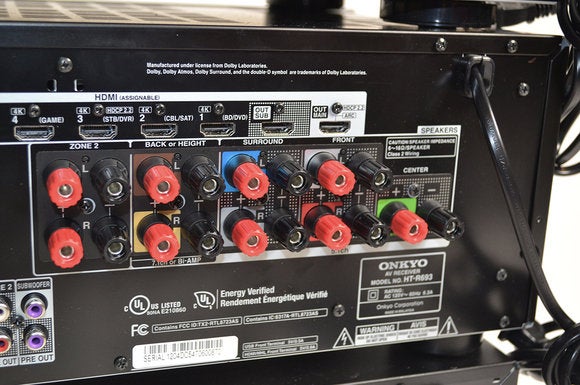 Onkyo's receiver was the only home theater in a box we reviewed that has two HDMI outputs, so you can connect a TV and a video projector at the same time. Credit: Theo Nicolakis
I was pleasantly surprised at the performance of Onkyo's subwoofer. A 10-inch subwoofer won't deliver deep bass, but the Onkyo sub gave me a top-to-bottom, thoroughly satisfying experience. Best of all, the Onkyo sub didn't try to reproduce bass beyond its means. When manufacturers try to do too much, they just make a muddy mess.
Previous Page 1 2 3 4 Next Page