Onkyo HT-S7700 review: An easy-to-set-up home theater in a box with Dolby Atmos
This home theater in a box includes just about every modern feature you could want in a budget-priced system.

If you own a turntable, the A/V receiver in Onkyo's HTIB system is the only one we reviewed to be equipped with a phono input.
Onkyo doesn't have a wireless multi-room audio system that can compete with Yamaha's MusicCast technology, but this receiver can be connected to a pair of wired speakers—or to a stereo amplifier—in a second room (Zone 2).
On the surface, the HT-S7700 packs in a ton of features where it counts. Let's see how it all comes together.
A breeze to set up
Onkyo says it designed the HT-S7700 to be one of the easiest HTIB systems to set up, and they deliver on that promise. There's no need to strip or cut wires—everything is pre-cut. The colors on the back of each speaker matches the color on the receiver's rear panel and even the colors of the speaker cables, so you'd have to be very careless to hook up the speakers incorrectly.
Most people will place the front speakers closer to the receiver; as such, Onkyo provides longer cables for connecting the surround channels. My listening position was 13 feet from the receiver, and I had plenty of cable to accommodate that scenario. The included subwoofer, which sports a 10-inch driver, was larger than I expected.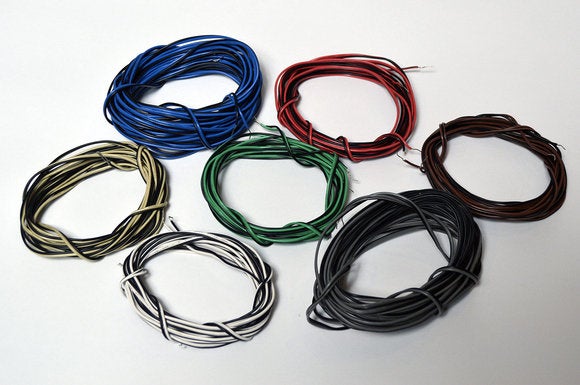 Onkyo provides color-coded speaker cables with its HT-S7700 to make setup easier. Credit: Theo Nicolakis
In a matter of 20 minutes, I had everything unpacked and connected and I was ready to use the receiver's AccuEQ room correction software. AccuEQ will equalize the system for speaker distance, type, crossover, and output level, and it can apply a dose of digital EQ in an effort to correct for acoustic anomalies in your listening environment. Room correction can be a blessing, but it's rarely a panacea. It's most effective when you've placed your speakers correctly. To use AccuEQ, you plug the included microphone into the receiver's front panel and then initiate the step-by-step guide. The whole process takes only a few minutes to complete.
Musicality was a mixed bag
Most people will find listening to music on the Onkyo system to be a highly satisfactory experience—especially music with good bass lines. I'd even say it was high value for this price point. The system imaged well and presented a well-developed soundstage. Nevertheless, there was persistent image smearing–especially when I wanted to focus in on individual instruments during songs. They just seemed to blend together.
Various tracks from the Star Wars: The Force Awakens soundtrack, for example, came across relatively well, but exhibited an overall boxy sound. The Onkyo subwoofer fared well with orchestral music and gave percussion instruments satisfying weight. Bass lines were a strong suit with Loreena McKennitt's From Istanbul to Athens Gates of Istanbul, too. Bass notes had solid presence. I liked it.
Previous Page 1 2 3 4 Next Page