Onkyo HT-S7700 review: An easy-to-set-up home theater in a box with Dolby Atmos
This home theater in a box includes just about every modern feature you could want in a budget-priced system.

Immersive audio is the next big thing in movies and TV soundtracks. Putting together a traditional surround system' much less an immersive audio system, can be a daunting and confusing task.
Onkyo aims to dispel confusion while delivering solid performance with its $899 HT-S7700 HTIB package. The HT-S7700 delivers a full 5.1.2-channel Dolby Atmos experience without requiring you to install speakers in your ceiling. The system consists of an A/V receiver, five satellite speakers, a powered subwoofer, color-coded and pre-cut speaker cables, and a subwoofer cable. The front left and right speakers have additional speakers on top of the cabinets that perform as Dolby Atmos height channels, bouncing sound off your ceiling.
The speaker cabinets aren't plastic, like what Yamaha ships with its YHT-5920ULB HTIB system, but neither or they fabricated from the high-quality plywood or even medium-density fiberboard (MDF) materials that are so valued for their neutral acoustic character. They seem to be made of a less-dense particle board. Having said that, the cabinets feel sturdier than Yamaha's speakers. They sound better, too.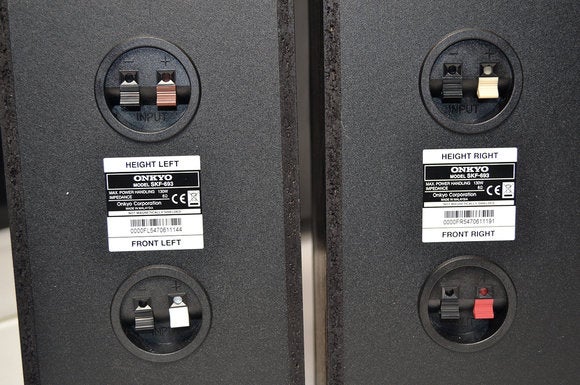 There are two pairs of spring-loaded terminals on Onkyo's front left and right speakers, because the speakers on top of the cabinets reproduce the height effects in Dolby Atmos soundtracks. Credit: Theo Nicolakis
The Onkyo HT-R693 A/V receiver included in this package has seven HDMI inputs and two HDMI outputs, so you can support both a TV and a video projector without needing to swap cables. But only one HDMI input and one HDMI output is compatible with the latest version of digital copy protection—HDCP 2.2—that you'll find in 4K UHD video-playback devices, such as Ultra HD Blu-ray players.
Onkyo's receiver offers strong home-networking features, thanks to Wi-Fi, Bluetooth, and ethernet connectivity. The free Onkyo Mobile App allows you to control the entire system from your phone or tablet, and you can stream audio directly from your networked mobile device, computer, or media server. The receiver also supports popular streaming-audio services such as Spotify, Pandora, SiriusXM Internet Radio, Slacker, Aupeo, and TuneIn. This system can decode a variety of audio codecs, including FLAC, ALAC, DSD, and MP3.
In addition to its network connectivity, the Onkyo has two coaxial and one optical digital inputs; seven stereo pairs of analog audio inputs (including a phono input to support a vinyl turntable); three composite video inputs; one component video input and one output; and one composite monitor output. The user manual doesn't state explicitly that the receiver contains a genuine RIAA preamp, as in the old days. It says "If the [turntable] uses an MM [moving magnet] cartridge and does not have a built-in audio equalizer, connect it to the phono jack. If the connected turntable has a built-in audio equalizer, connect it to the TV/CD jack."