OLED vs LED: There's just no comparison
A simple explanation of the technology used in OLED TVs (and how it compares to LED-backlit LCD TVs).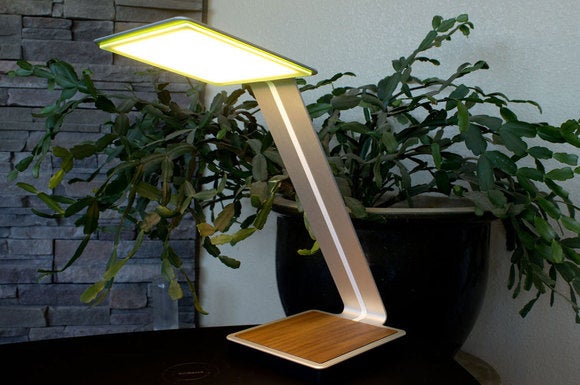 OLEDs don't have to be small, and they have applications other than TVs. The Aerelight A1 desk lamp uses a single 5.0- by 5.0-inch OLED. Credit: Michael Brown
Why are OLED TVs so pricey?
The application of organic materials to a substrate required to build an OLED TVs has thus far proven problematic in larger size panels. Low yields at the factory mean high prices at retail. The problem is so vexing that, as I mentioned, only LG is offering OLED TVs at the moment (Panasonic announced last fall that its top-shelf 65-inch Viera TX-65CZ950 would be based on an OLED panel—manufactured by LG). Affordable LCD-enhancement technologies coming down the pike have probably steered vendors in that direction as well.
OLED TVs have a great picture, sip parsimoniously from the AC, and are super easy to move about or hang from a wall. But those prices! So let's forget money for a second because it weighs differently in the equation for everyone.
Head to head, every OLED TV I've seen beats the pants off of the average LED-backlit LCD in terms of color, richness, and smooth action. High-end LED-backlit LCD TVs employing quantum dots, on the other hand, give OLED a run for its money—especially in terms of color gamut and accuracy—and they're generally a bit brighter to boot.
But I enjoy OLED viewing as much as I do with the quantum-dot products. And, as I always say, if the movie or game is good enough, a 9-inch monochrome display will cut it. So, in the end, I can only tell you to buy the type of TV you prefer. After, of course, you evaluate the TVs you're interested in using our most recent buyers' guide.
Previous Page 1 2 3