Obduction hands-on: Myst's spiritual successor makes you feel small and mortal in VR
Everything old is new again, as Obduction borrows Myst's node-based movement in VR.
Sure, a thousand-foot drop into the void is obvious on a normal screen, but you don't get the same sense of vertigo you might when you're standing on the edge of the same rickety iron walkway in VR. And sure, you can tell a contraption is really big, but on a normal screen you might not realize each gear is actually the size of your head—and I have a big head.
It should make for a fantastic VR game, at least as far as the virtual tourism goes. I am a bit worried about how readable some of the notes will seem on the Rift—thin, small text is still one of VR's weak points. But the broad strokes are brilliant, at least when it comes to art.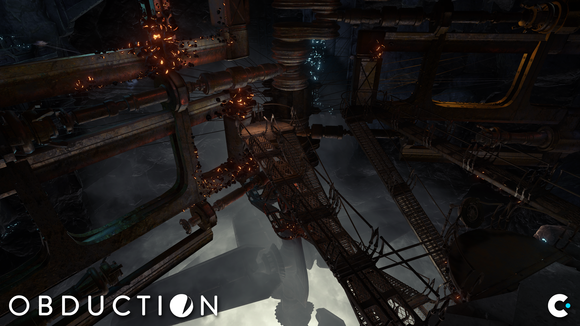 Oh, and it's worth noting the game ran buttery smooth in both VR and a standard monitor—though it was running on a GeForce GTX 1080, which is a bit like a game taking steroids at the moment.
We won't have to wait long to pass judgement on the full release. Obduction is set to launch on July 26. Hopefully it lives up to expectations, so Cyan can live to see everything old become new again.