Nvidia hits gaming milestone: True desktop performance in a laptop with GeForce GTX 980
Nvidia somehow managed to cram a desktop GPU into a laptop. Read on to find out how.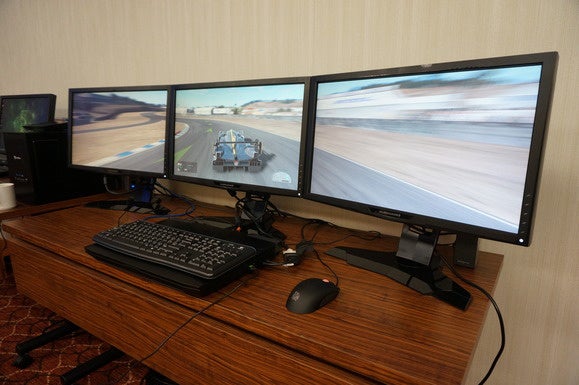 A single laptop with a GeForce GTX 980 is shown here running Project CARS on three FHD monitors. This Clevo actually includes a desktop Skylake CPU.
The lineup
Initially, six laptops will be introduced with the new chip. Some will be familiar.
The most graphically powerful of all the laptops introduced may very well be the refreshed MSI GT80. I can't give the final word until I test a unit, but it has a leg up over all the other laptops: It runs two GeForce GTX 980 cards in SLI. The previous version that I reviewed is among the fastest gaming laptops I've seen. I covered MSI's new lineup but back then, there was no word on the GPU. Now we know why. The company's GT72 also gets the GeForce GTX 980 buff.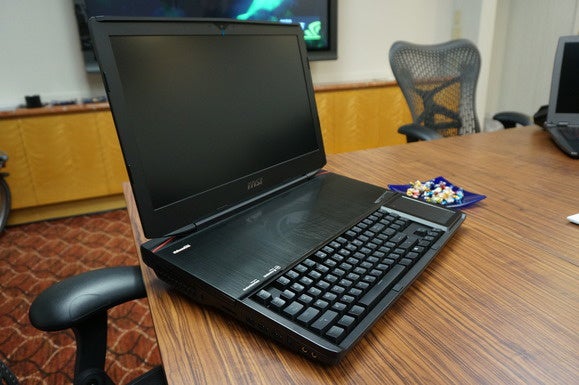 MSI's GT80 gets a refresh with not one GeForce GTX 980 cards, but two along with Skylake too.
Nvidia also had on hand Asus' wild laptop, the GX700 which will be the first laptop with a docking water cooling system. Asus actually unveiled it at IFA, but the GPU was a secret. We still have no idea how it works exactly. Asus let Nvidia show the laptop but we weren't allowed to turn it on or undock it. Foo.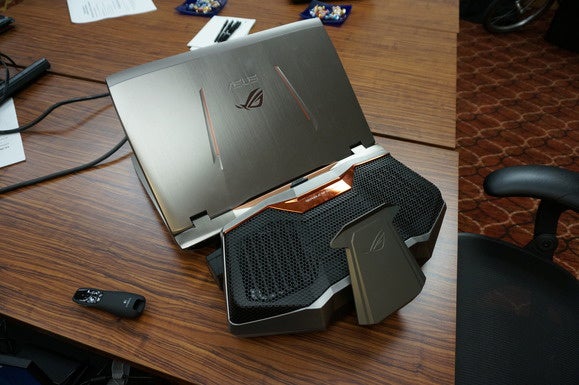 The mystery GPU in the Asus GX700VO is now known to be the GeForce GTX 980 card.
The other laptop I want to highlight here is the Aorus X7 DT. This appears to be updated version of the Aorus X7 Pro Sync. Aorus' approach with the X7 was to find a way to offer a ton of performance in a thin laptop. It's no ultrabook, but at 23mm it's not bad.
The way Aorus pumped up the performance was to use two GeForce GTX 970 cards in SLI. That actually put it well above the performance of a single GeForce GTX 980m, and it may actually be as fast as the GeForce GTX 980 in some tasks. SLI doesn't come without costs, though, and in some games, the GeForce GTX 980 will indeed be faster. Still, this is a lot of performance in one thin laptop.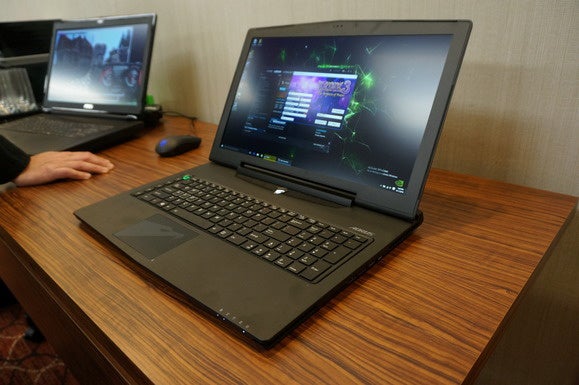 The Aorus X7 DT is fairly thin and light weight considering its performance curve.
G-sync too.
Of the six laptops Nvidia showed off, five were running G-sync panels. I'm torn. G-sync on a desktops OK. G-sync on laptops that can't push more than 60 fps, even better. But G-sync works best for me when frame rates dip to the 30 to 40 fps range. With a GeForce GTX 980 paired with a 1920x1080 panel, you'd really have to get the frame rates to dip below 60 fps for it to pay big dividends.
Previous Page 1 2 3 4 5 Next Page