Nvidia hits gaming milestone: True desktop performance in a laptop with GeForce GTX 980
Nvidia somehow managed to cram a desktop GPU into a laptop. Read on to find out how.
You want overclocking, you get overclocking
Sanghani said the other engineering feat in the new GeForce GTX 980 is supplying enough power to run it. While the GeForce GTX 980m uses three-phase power, he said, the GeForce GTX 980 was designed to be built with four to eight phases.
If you think of a phase as an individual channel, adding more phases generally means each channel has to work less, which in theory increases reliability and stability. With the new design, Sanghani said there's 50 percent more peak current available to the GPU than there is for the GeForce GTX 980m.
Normally this wouldn't matter that much, but Nvidia also intended for the new GPU to be very overclocker-friendly and overclocking usually requires access to a very clean, stable power source. Overclocking implementation can be decided by the notebook builder and will be dependent on the capabilities of the platform, but one demonstration showed the card running with about a 200MHz boost overclock.
The same design flexibility goes for thermals. Nvidia didn't release details of the thermal design profile of the new GPU, saying it's dependent on the laptop design.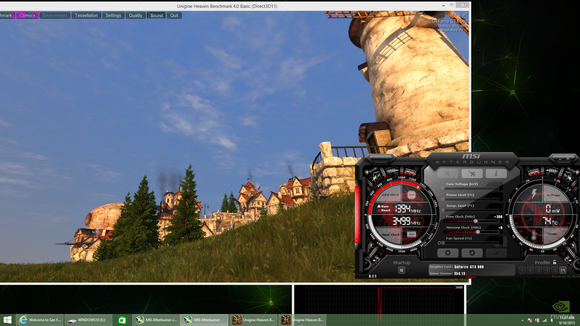 Overclocking is unlocked on the new GeForce GTX 980 too. Well, except for voltage.
VR capable, and surround gaming as well
Nvidia said the new laptop GeForce GTX 980 is the first mobile GPU capable of running VR. The company demonstrated an Oculus Rift DK2 running several games and demos.
While you might think the tiny screen in a VR headset doesn't require much graphics power, it actually needs more. Gaming on a standard two-megapixel, 1920x1080 monitor at 60 fps takes about 120 million pixels per second, Sanghani said. But gaming on, say, the HTC Vive requires the GPU to push 1680x1512 per eye and also run at 90 fps. That means the GPU now has to push about 450 million pixels per second.
That's something the GeForce GTX 980m can't hack, but the new GeForce GX 980 can, the company says. For the record, the minimum GPU for the the Oculus Rift DK2 is a GeForce GTX 970.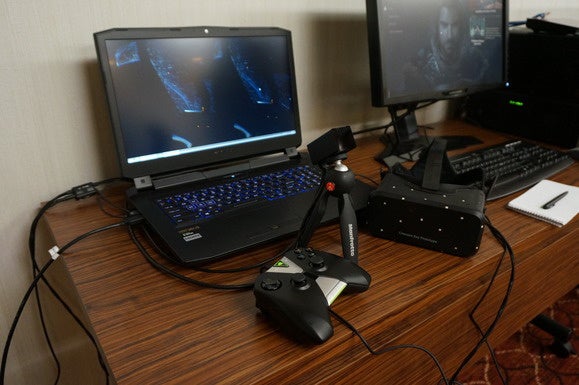 Nvidia says the new laptop GeForce GTX 980 is the first GPU capable of supporting VR.
While I can see someone hauling around a gaming laptop with a DK2, the second use case for all this power seems a little less likely. Surround gaming has been possible on a laptop for sometime, but Nvidia said the GeForce GTX 980 can now push it all in a single GPU. It showed off another Clevo unit running Project CARS on three 1920x1080 monitors in surround.
Previous Page 1 2 3 4 5 Next Page