Nvidia GeForce GTX 950 review: Bringing more oomph to budget gaming PCs
Nvidia's new GeForce GTX 950 delivers a better-than-consoles gaming experience for just $150.
Bioshock Infinite is our obligatory Unreal Engine 3 title, and both AMD and Nvidia have had plenty of time to optimize their drivers for the game. As with Alien, frame rates are great across the board here even with the visuals cranked and diffusion depth of field enabled.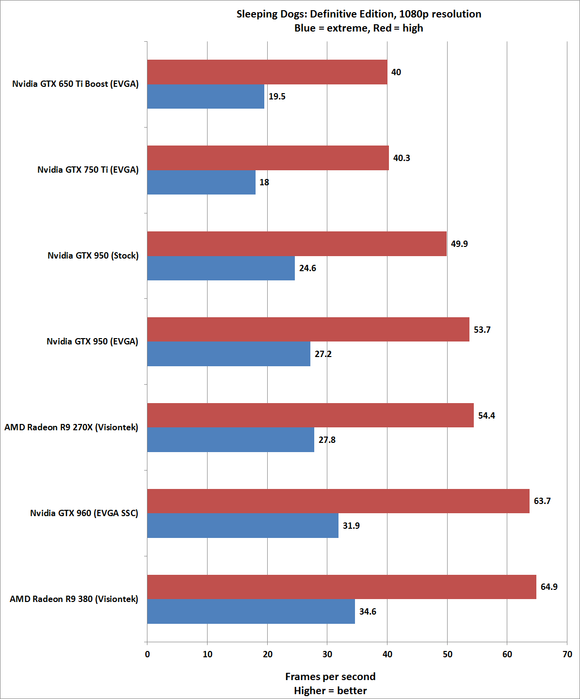 Finally, let's wrap up our real-world tests with recent HD remakes of two gorgeous, wonderful games. First up, Sleeping Dogs: Definitive Edition. The game's borderline unplayable at the Extreme graphics preset, hovering around 30fps or fewer, but it's far more smooth—and still beautiful—at the High graphics preset.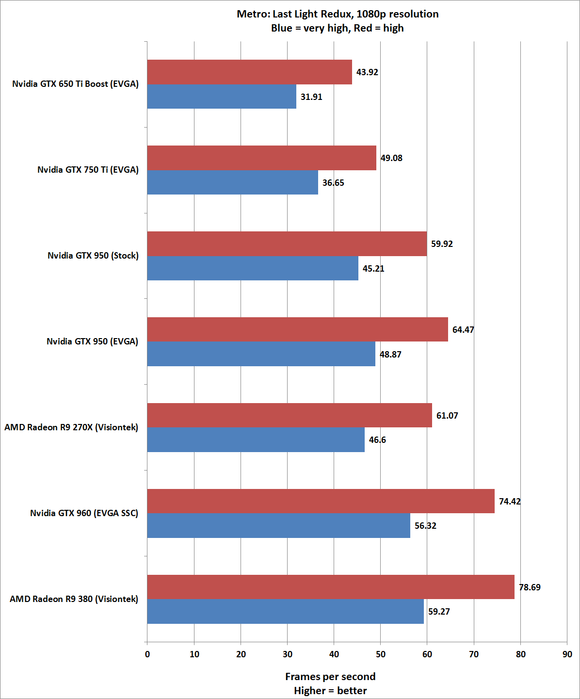 We test Metro: Last Light Redux without SSAO enabled, since that drops frame rates in half and doesn't add much to the final visual product. PhysX is also disabled in our testing. Every card runs the game well enough, though the pricier R9 380 and GTX 960 obviously have a leg up over the $150-ish options (as expected), and the EVGA GTX 950 SSC's overclock pushes it ahead of the R9 270X.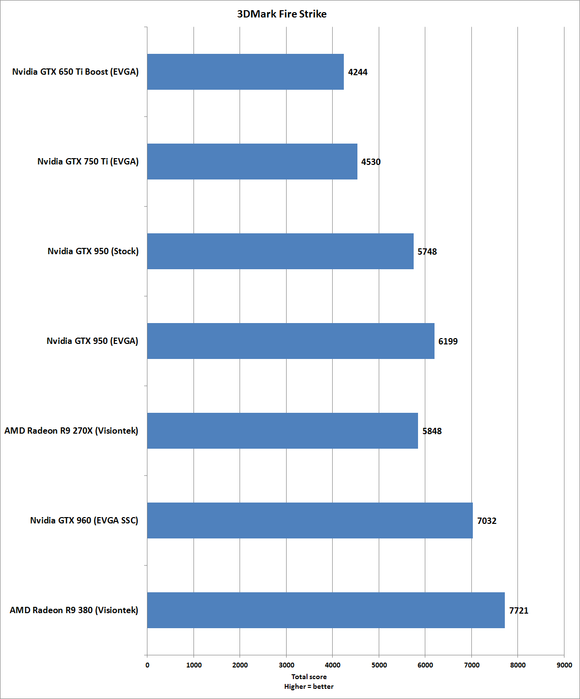 In 3DMark's Fire Strike test, a popular and widely used synthetic benchmark, the Radeon R9 290X's overall score falls firmly between the results for the "stock" GTX 950 and EVGA's GTX 950 SSC—something we saw in several of our gaming benchmarks.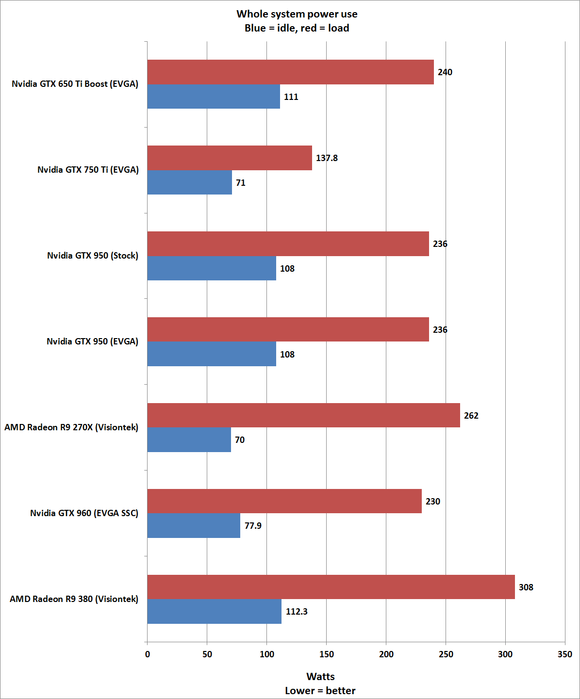 As far as power usage goes, the sublimely energy-efficient GTX 750 Ti is still the head-and-shoulders winner here, consuming a full 100W less than the GTX 950. Power is measured by plugging the entire system into a Watts Up meter.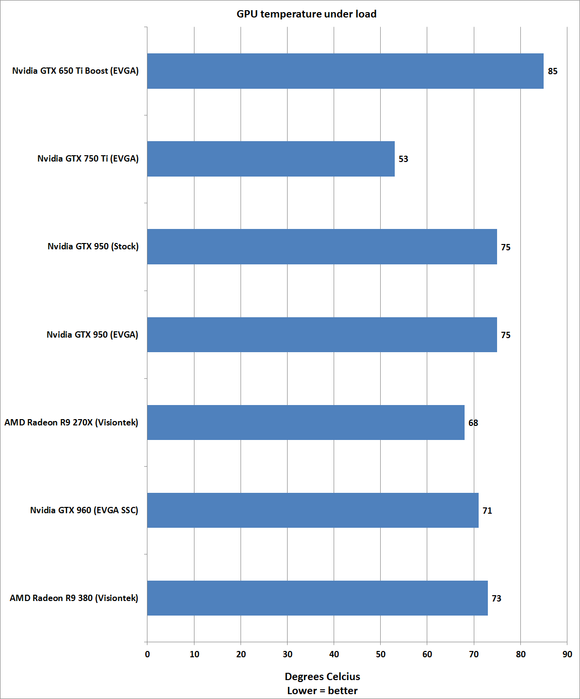 Nvidia's pint-sized 750 Ti is also the clear winner in heat output, putting out a mere 53W under load. That's still crazy. Heat is measured by running the worst-case-scenario Furmark benchmark for 15 minutes, then taking the GPU temperature at the end using Furmark's built-in tool as well as the SpeedFan utility.
Final page: Conclusion
So where does all that leave us? It's complicated.
Tossing out Shadow of Mordor (a clear AMD win) and GTAV (a clear Nvidia win), the GeForce GTX 950 and Visiontek's Radeon R9 270X pretty much go toe-to-toe. Testing on other sites show the "new," rebadged R7 370 only seeing results 1 to 2 fps higher than the 270X. EVGA's slick GTX 950 SSC delivers anywhere from 3 to 10 fps higher results than the simulated "stock" GTX 950, but overclocked R7 370 models no doubt see similar improvements. (It's still worth picking up the GTX 950 SSC's guaranteed overclock and enhanced cooling over a stock GTX 950 for a mere $10 premium, however.)
Previous Page 1 2 3 4 5 6 Next Page