Nvidia GeForce GTX 950 review: Bringing more oomph to budget gaming PCs
Nvidia's new GeForce GTX 950 delivers a better-than-consoles gaming experience for just $150.
For memory, you'll find 2GB of GDDR5, clocked at a 6600MHz effective rate and chatting with the GPU over a 128-bit bus. That sounds paltry, but don't sweat it; it's more than enough for playing games at 1080p with normal- to ultra-level graphics detail settings, which this card aims for.
The card supports DirectX 12's 12.1 feature level, and Nvidia's also spent time optimizing the GTX 950 specifically for competitive MOBA games like Dota 2 or League of Legends, reducing the number of frames it buffers in the rendering pipeline to improve latency. Using the auto-optimize options in Nvidia's GeForce Experience software will enable that and other latency-improving tricks (like running in borderless mode rather than fullscreen) with your having to manually tinker with various settings. Those optimizations will initially only be available to GTX 950 users, but Nvidia says to look for them to expand to other GeForce graphics cards in the future.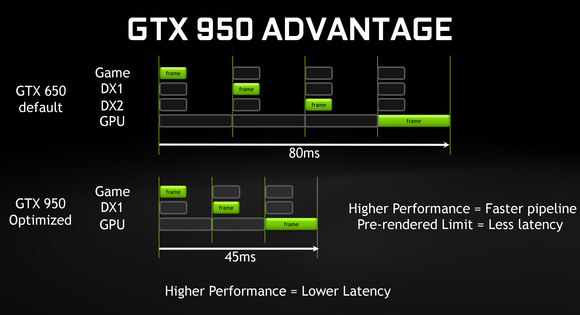 Speaking of GeForce Experience, Nvidia's slick software is receiving an overhaul of its own in September, via a new beta version that adds a new in-game overlay menu that features direct-to-YouTube video sharing, and—more interestingly—GameStream Co-op, which lets you beam your games over the Internet so your pals can play along with you in the Chrome browser. Read all about it here.
Wrapping things up, the GeForce GTX 950 rocks a trio of DisplayPort 1.2 connections, a single HDMI 2.0 port, and a single DVI-I hook-up. Nvidia recommends using a 350-watt or higher power supply with the card, which rocks a TDP of a mere 90W. That's 30W more than the GTX 750 Ti, but 30W less than the GTX 960's 120W TDP.
EVGA's GeForce GTX 950 SSC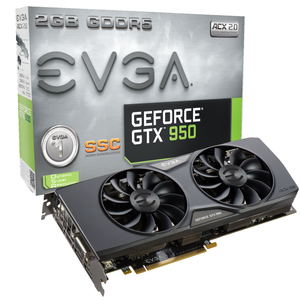 The GTX 950's release is a hard launch, meaning that Nvidia's various board partners will have cards available immediately. Our review board is EVGA's customized, $170 GeForce GTX 950 SSC (Super Superclocked), the second most powerful graphics card in EVGA's GTX 950 blitz, which consists of four separate models.
The EVGA GTX 950 SSC packs a hefty overclock out of the box, jacking the GPU's base clock speed to 1190MHz—faster than the stock 950's boost speed—and the boost clock speed all the way to 1393MHz. The memory clock speed remains untouched, though you can use EVGA's superb PrecisionX overclocking software to give the card's GPU and memory even more pep in their steps. (PCWorld's guide to graphics card overclocking can help.) There is a tradeoff for those high out-of-the-box overclock speeds, however: The EVGA GTX 950 SSC requires an 8-pin power connection, rather than the stock GTX 950's 6-pin connector.
Previous Page 1 2 3 4 5 6 Next Page