Nuance's Omate TrueSmart: The smartwatch that gets it right
Industry-leading voice commands. Swype. Android. All on a smartwatch that doesn't need a phone to function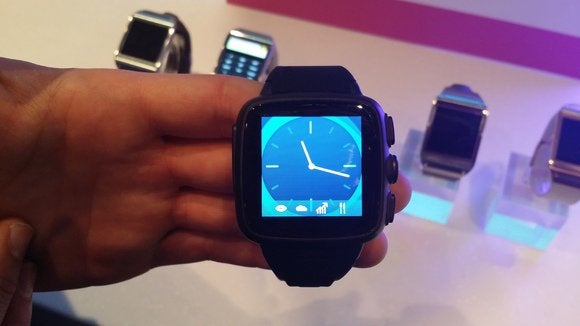 Combine one of the world's best digital assistants with a smartwatch that can actually stand by itself, and what do you get? The Omate TrueSmart powered by Nuance and Swype, which shows the rest of the smartwatch industry the direction it needs to go.
Today's smartwatches have a problem: They need a smartphone. Untethered and unconnected, they're just barely functional. But if they're dependent on a phone, then the smartwatch becomes a $200 solution to the problem of taking your phone out of your pocket. Likewise, a phone without the requisite "smarts" simply pales in comparison to the smartphone.
While the number of smartwatches available or planned appears to be close to a dozen or more, combining the right hardware and software appears limited to a select few. On the hardware front, Omate raised over $1 million for a chunky yet powerful smartwatch with an actual SIM inside that allows you to place phone calls and send texts, all-day battery life, GPS, up to a 8GB of on-watch storage, and Android 4.2.2 Jelly Bean. The watch is currently shipping to its backers.
And on Tuesday, Nuance said that it would port its Dragon Mobile Assistant to the Omate platform, and demonstrated the technology, live on the TrueSmart, to PCWorld. What the companies showed off was simple, efficient, and effective: You can place calls, make calendar appointments, and perform searches, all by simply speaking to the watch.
Omate sells both a $199 Standard Edition and a more powerful $249 "1GB/8GB" edition with 1GB of memory and 8GB of onboard storage. (The standard edition includes 512 MB RAM / 4 GB storage, and both editions contain a 1.3GHz dual-core Cortex A7, 2G/3G SIM, GPS, 5-megapixel camera, Bluetooth, and a 600 mAh battery that's good enough to last all day, according to Nuance executives.)
Given that this was a demonstration by Nuance, Sean Brown, senior director of innovation at the company, didn't spend a lot of time running through the capabilities of the TrueSmart besides Nuance. But if you buy in to the basic premise of a smartwatch--quick snippets of data, controlled by swipes and voice commands--chances are you won't be trying to browse the Web on your wrist anyway.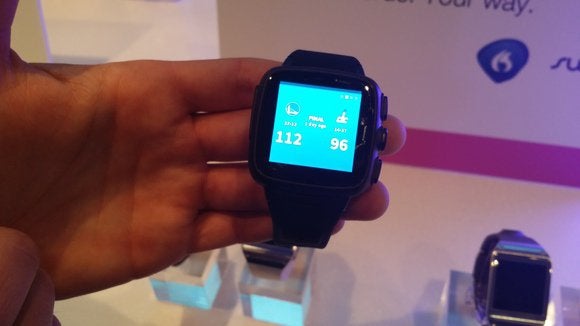 Glanceable information is a swipe away.
After tapping on the phone to wake up the Nuance technology, Brown walked us through some of the phone's functions. Although you can connect the watch to a phone via Bluetooth or Wi-Fi, Brown's demo ran locally, using the computing resources of just the phone itself:
"Send a text message to James Hendrix: 'Let's get together on Friday at 5 and jam.'"
"Remind me to call my mother at 7pm." ("I think that's a critical element of a smartwatch," Brown said.)
'Send an email to Josh Light titled 'Proposal.' Let's meet over lunch tomorrow."
"Post status: I'm having a great time in Las Vegas."
"Create calendar appointment tomorrow at 7 PM."
"How tall is the Empire State Building?" The phone's search technology is powered by Wolfram Alpha, Brown said.