Notebook hard drives are dead: How SSDs will dominate mobile PC storage by 2018
Trends in SSD pricing and laptop sales are all pointing in the same direction.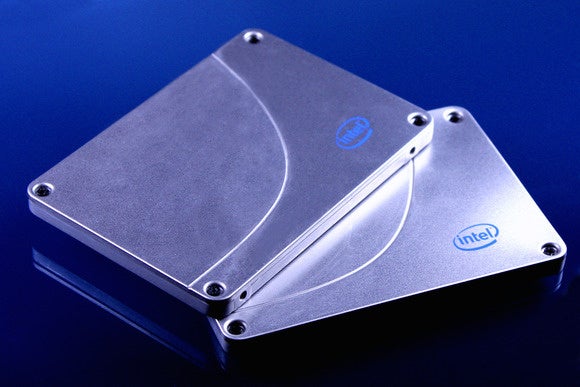 Credit: Intel
If current pricing trends continue, the conventional notebook hard drive could die by 2018, replaced with fast, slim, and increasingly cheaper SSDs.
SSDs can generally transfer data faster and with less latency than hard drives, running silently and consuming less power. But they've traditionally been priced several orders of magnitude higher than a hard drive of the same capacity, limiting their use to higher-end PCs.
Quietly, however, that's changing. The flash vendors designing the chips used within SSDs have aggressively introduced technology that continues to lower their cost. Meanwhile, hard drive vendors have spent the last 60 years whittling dollar after dollar from the cost of a hard drive, but face slowing price declines that should allow SSDs to catch up.
Hard drives certainly aren't going away—especially in desktop PCs, servers, and in devices like DVRs. But in notebook PCs? "Let's be honest," said Bob O'Donnell, principal at TECHnalysis Research. "[Hard drives] are obviously a technology that will have run its course at some point."

We've long said that an SSD is the best upgrade you can buy for your PC. Credit: Michael Homnick
SSD price declines pressure hard drives, alter PCs
Right now, SSDs aren't anywhere close to the same price as a hard drive: On a dollars-per-gigabyte basis, SSDs are six times the price of a comparable hard drive, according to Taiwan's TrendForce. Over time, however, the firm's data predicts that SSD prices will plunge precipitously, putting SSD pricing on a level with hard drives—whose pricing has remained essentially unchanged. At that point, SSD's other advantages should give it the edge.
Alex Chen, the senior manager in the memory division for TrendForce, said in an email that he believes that the price per gigabyte for hard drives and SSDs will be "very close by 2018 to 2020."
Extrapolating the current price trend puts the crossing point at 6 cents per gigabyte. Variances in the forecast model could put that as early as mid-2017, or as late as early 2019.
Separate data compiled by Objective Analysis, which tracks the flash market, is more pessimistic, putting SSD prices at 6 cents per gigabyte barrier in 2019. (Note: the graphic includes forecasts from both TrendForce as well as Objective Analysis; the dotted lines indicate PCWorld's own extension of that data, using Microsoft Excel's forecasting tool. The key is where the SSD pricing line intersects the hard drive pricing trend.)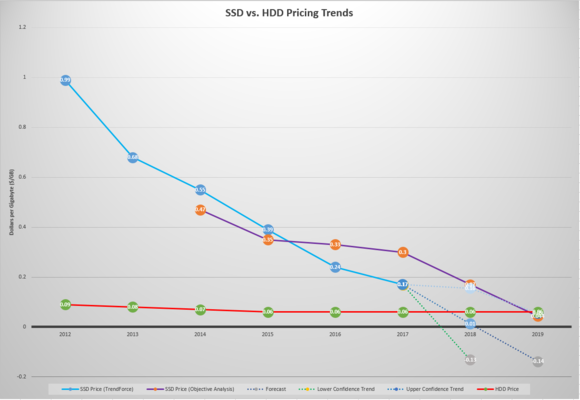 Two different estimates of SSD pricing, mapped against relatively static pricing for hard drives. Click on image to enlarge.