Nixon Mission review: A hardcore Android Wear watch for surf and snow
Ruggedized for action sports, the Nixon Mission is water resistant down to 10 ATM thanks to a trick "MicLock" feature.
To reiterate, I don't do action sports. But I know a few surfers, and I think at-a-glance wave reports would be very useful in helping them decide when to suddenly fall ill and call in sick.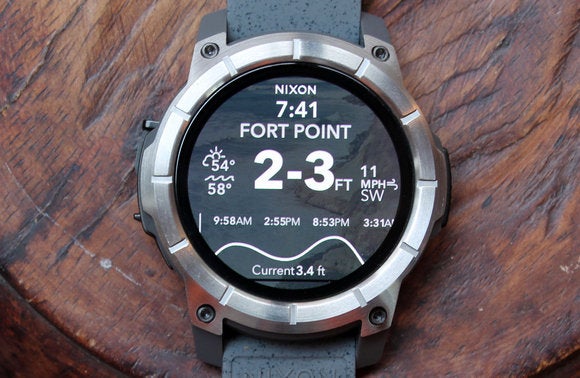 The Mission Pro watchface up close. You can define multiple surfing spots in your area, and then swipe through locations to see what's happening where.
Now, if you're really serious about action sports, you can choose the Mission Pro watch face—which is barely even a watch face at all. As you can see from the image above, the current time is totally de-emphasized. Instead, the watch face hooks into the Surfline platform to deliver detailed data on local surfing spots, including current temperature and cloud conditions; wave height; wind direction and speed; and tidal information. Scroll down further on the watch face, and you can see information for tomorrow.
If your interests are more geared toward snowboarding or skiing, you can set the watch for snow reports (powered by the Snocountry platform) instead. You'll get data on the current temperature and cloud cover; wind direction and speed; new snowfall in inches; projected snowfall in inches; and details on base depth, open trails and open lifts.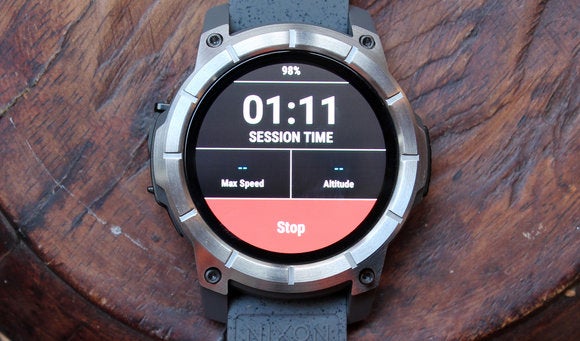 The Trace app pairs with an external physical sensor that you affix to your snow of surf board. From there, you can record a bunch of data from your sessions.
And, finally, the Mission hooks into Trace, a sensor-driven platform for measuring performance in action sports. TraceSnow, for example, can track session time, calories burned, altitude, maximum speed and total distance.
Display, CPU and battery
Aside from its aggressive look and action-sports leanings, the Mission is a fully modern Android Wear watch that advances the Wear story in some areas, but falls a bit short in others.
The 1.4-inch, 400x400 AMOLED display looks quite sharp, but it's not bright enough to be legible on clear, sunny days. The Mission has an ambient light sensor, but it doesn't matter if you set the watch to auto-brightness or its maximum setting, it still can't cut through direct sunlight. To this extent, I'd rather have a Wear watch with a transflective display.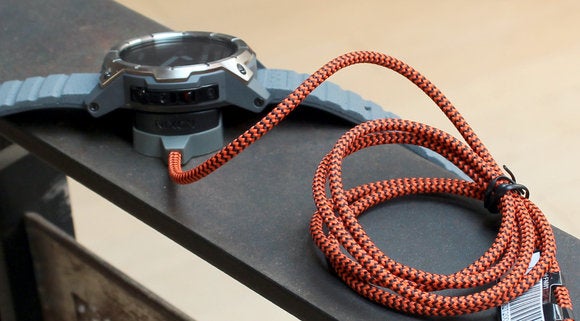 The Mission's charger attaches with a relatively strong magnet, and has a durable braided cord.
On the flipside, battery performance was impressive relative to other Android Wear watches I've tested. I never finished a full day of frequent, punishing use with less than 30 percent battery capacity remaining, and I often found myself making it through a day and a half without a recharge.
Previous Page 1 2 3 4 Next Page