Nixon Mission review: A hardcore Android Wear watch for surf and snow
Ruggedized for action sports, the Nixon Mission is water resistant down to 10 ATM thanks to a trick "MicLock" feature.
Two years ago, the first Android Wear watches rolled out as unrepentant nerdware. Since then, Google's smartwatch platform has been embraced by mainstream fashion and lifestyle brands, and today we have much more fashionable options from TAG Heuer, Fossil and Michael Kors. And then there's the Nixon Mission, a ruggedized $400 Android Wear watch designed specifically for snow and water sports.
Dude. This watch is actually pretty cool.
I neither shred nor surf, so I couldn't get any immediate use from Nixon's custom software, which provides a bunch of data on surf and snow conditions. But I still like a lot of what the Nixon Mission brings to Android Wear's table. The 48mm case may be huge, but at 3.7 ounces, the Mission actually weighs less than the more fancy-lad Michael Kors Access, which hit 4 ounces on our postal scale. The Mission will dominate skinny wrists, but it's remarkably comfortable for its size.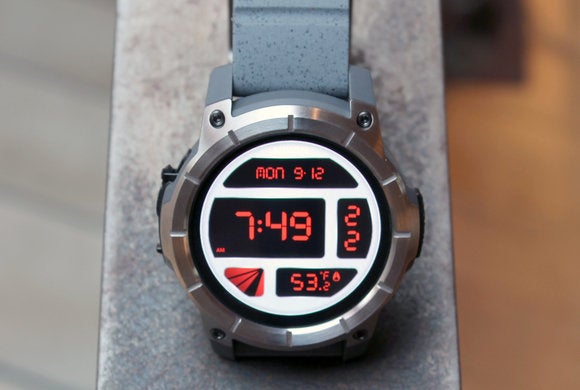 The Unit watchface shows just the basics, along with current temperature, and whatever the hell animation is going on in the lower left.
Design and comfort
Nixon eschewed an all-metal design, and instead opted for a shockproof polycarbonate case topped by a surgical-grade stainless steel bezel. The result is a sporty, purposeful look that pairs well with Nixon's custom watch faces.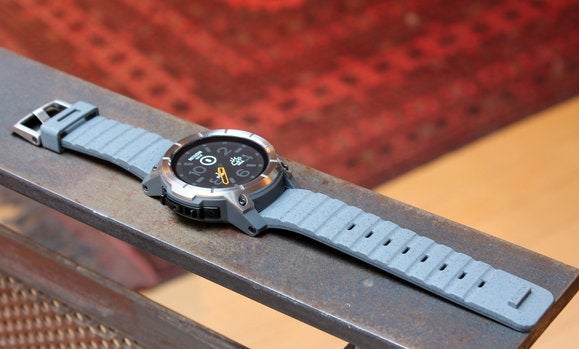 The silicone band is quite comfy. You can choose from 24 different color options.
My review specimen came with a brushed stainless steel bezel, but when you order the watch, you can choose from 12 different bezel looks—five brushed steel options, and seven matte cerakote options. The bezel is held down by four easily removed allen-head screws, but there's really no reason to disassemble the watch, as Nixon isn't selling the bezels as standalone items for customization.
Nonetheless, I did remove the bezel to test its durability, and yep, the sucker is strong—or at least resistant to torque. The bezel didn't bend when I tried to give it a purposeful twist, but it did suffer some nicks when when I whapped it with a metal ruler. Worried about durability? Well, the crystal is made of Gorilla Glass, and it's also recessed a bit beneath the bezel. This should give the screen some extra protection if you slam the Mission against a river rock.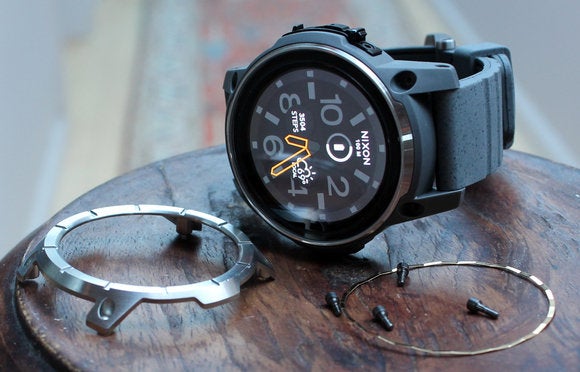 The stainless steel bezel is locked down by four allen head screws, with a gasket sandwiched against the crystal.
The water-resistant MicLock
Most smartwatches offer some degree of water-resistance. For instance, if your watch is good for 5 ATM, it can survive splashes of water in the shower. But Nixon wanted a watch that could survive wipeouts and turtle rolls. Enter Nixon's MicLock mechanism, which helps the Mission achieve a 10 ATM rating. In theory, this means the watch can survive submersion under 330 feet of water.