NitroBrew nitrogen injector review: This setup will make any beer taste smoother
You no longer need to go to your favorite brewpub to enjoy a nitrogenated beverage.
Over the course of the next couple of weeks, I nitrogenated a number of other beers, including Bear Republic's Racer 5 (an India Pale Ale from a bottle) and three darker brews—varieties more typically associated with nitrogen carbonization: Sierra Nevada's Chocolate Chili Stout (from a growler), a Wildcard Brewing Reason for the Season (a bottled coffee cream stout), and an Oakshire Brewing Espresso Stout (from a can). After A/B taste tests with each brew, I found that I enjoyed the taste and the mouthfeel of the nitrogenated version more than I did the version carbonated solely with carbon dioxide.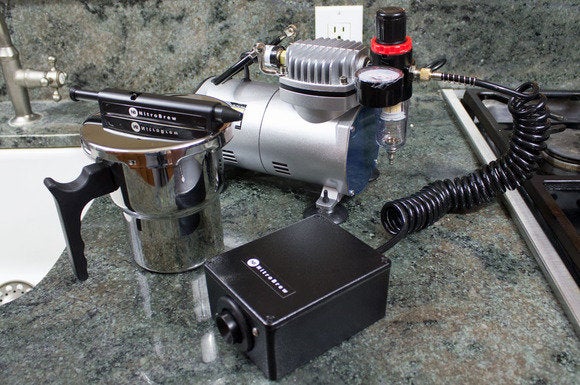 The black cube connected to the air compressor scavenges nitrogen from the air and injects it into the kettle. Credit: Michael Brown
But why nitrogen?
Introducing nitrogen to beer has three primary effects: It transforms the presentation of the beer in the glass, it changes the way the liquid feels in your mouth and on your tongue, and it amplifies the flavor. I've already described the first effect. The change in mouthfeel comes about because nitrogen is less water soluble than carbon-dioxide. Nitrogen gas diffuses from the liquid and forms bubbles that float to the top of the glass as foam, more commonly known as head. Since nitrogen bubbles are much smaller than carbon-dioxide bubbles, the foam persists longer and the beer beneath it feels thicker and less bubbly.
The change in flavor stems from the carbon dioxide dissolving into the beer. As it does this, a chemical reaction forms carbonic acid. Injecting nitrogen into the beer displaces some of that CO2, which in turn reduces the beer's acidity. That's one reason why most nitrogenated beers have tended to be malt-heavy stouts instead of the more hop-forward varieties, because the nitrogen can fade and flatten the flavor and texture of the hops. Nitrogenating an IPA like Racer 5 makes it less crisp, but reducing the fizz also enhances the beer's flavor and gives it a longer aftertaste. NitroBrew also sells flavors and essences that you can infuse into your favorite beers (cedar, orange, fennel, ginger, and more), but I didn't try these.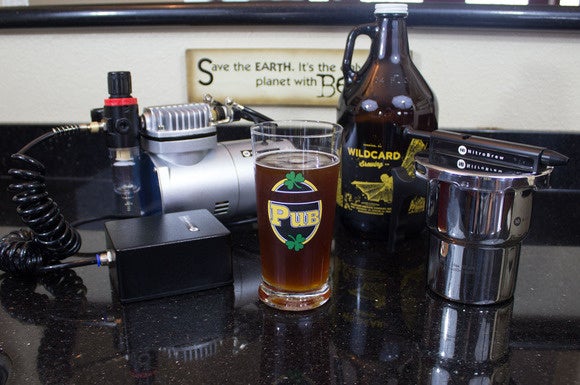 The NitroBrew can make any beer taste better and smoother. I tried it with IPAs, red ales, porters, and of course stouts. Credit: Michael Brown
Beervana?
While more breweries are shipping limited varieties of their beers in cans and bottles with widgets that release nitrogen into the beer when the container is opened, they typically limit these offerings to stouts and other malt-heavy beers. The same goes for brewery taprooms—and most of those won't put what nitrogenated beers they do have in a growler because the beer's shelf life is too brief.