Nexus Player review: Google's third attempt at TV is a fine first draft
It didn't take long for Google's Nexus Player to realize I was hooked on the Food Network.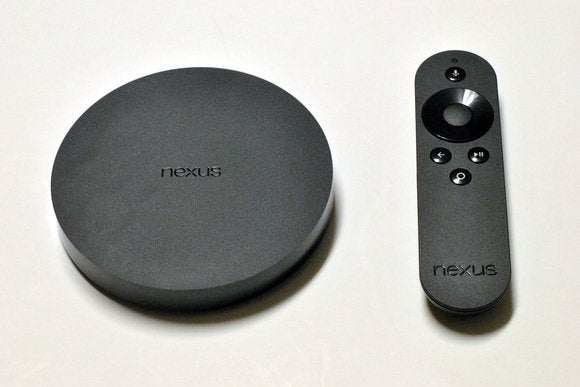 It didn't take long for Google's Nexus Player to realize I was hooked on the Food Network.
Within just a few days, the strip of recommendations on top of the screen ballooned from a single cooking show to three of them, all at the front of the queue. Each recommendation was a direct link into the Food Network's app, which offers free episodes for many of the channel's recent shows.
Google's recommendation engine perfectly illustrates the potential of Android TV, the platform on which the $99 Nexus Player runs. When it works, it's a speedy way to dive straight into something you'd actually want to watch instead of wandering aimlessly through apps. But like many other parts of Android TV, its appeal is dependent entirely on developer support, which is sorely lacking in these early days.
Built to blend in
The device hardware itself isn't worth dwelling on too much. It's just a large puck that'll sit discreetly in most entertainment centers, with an HDMI slot, micro-USB port, and power jack tucked under the back side. Strangely, there's no power button on the hardware, and no software-based way to restart the Nexus Player, so you just have to unplug and reconnect the power cable if anything goes wrong. (I had to restart a couple times to get Chromecast functionality working, and once after a game crashed.)
The included remote is small and basic, built from cheap plastic and powered by two AAA batteries. Up front, there's a circular directional pad with a select button in the middle, and buttons for back, home, and play/pause underneath. Like Amazon's Fire TV, it also includes a microphone and dedicated voice command button--more on that later--but there's no clever headphone jack like you get with Roku's remote. A couple more buttons for fast forward and rewind would have been helpful as well.
As with most TV boxes, what really matters is the software, and Google has tried to distinguish itself by keeping Android TV as simple as possible. There are no sidebars or sub-sections to drill through, and the entire interface is limited to three sections on the main screen. Recommendations are on top, a list of apps is in the middle, and games are on the bottom. The interface runs smoothly, and is so straightforward that it's nearly impossible to get lost. That alone makes Android TV much more successful than the now-deceased Google TV.
Looking for love from app makers
Compared to the static apps and games lists, recommendations are Android TV's most intriguing feature. The recommendations strip starts off looking like a generic way to sell you stuff, skewed heavily in favor of new movies and TV shows from the Google Play Store with a few YouTube videos mixed in. But third-party apps can feed into this system as well, and they'll show their own suggestions as you use them more often.