Never Alone review: The Reading Rainbow of video games
Never Alone is a fairly ho-hum platformer with an intriguing hook—the culture of the Alaskan native Inupiat people.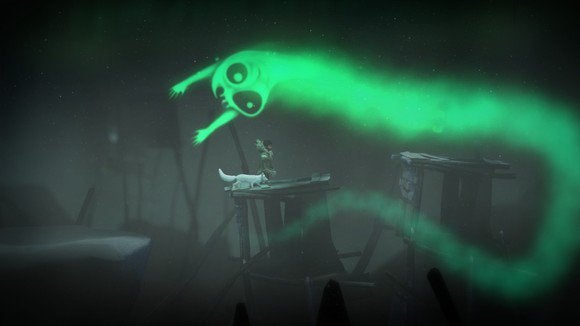 I'm (obviously) a writer. Before I was a writer, I was a reader. And before I was a reader, I was a kid who sat down to watch a show called Reading Rainbow on a grainy old CRT television. "Take a look, it's in a book, a reading rainbow." Two decades after the fact these words are still burned into my brain.
Each episode, LeVar Burton would visit some exotic locale tangentially related to whatever book was about to be read to us--like, for instance, Rosie's "authentic roadside diner" in advance of The Robbery at the Diamond Dog Diner.
Now imagine Reading Rainbow was a culturally-aware video game, and you've got Never Alone.
Twice as high
Never Alone is a game about stories, or really one story in particular: "Kunuuksaayuka" by Robert Nasruk Cleveland. It's a story of the Inupiat, an Alaskan native people, wherein a tiny village is beset by a raging blizzard. One man has the courage to seek out the cause of the blizzard.
Only in Never Alone it's actually one girl, Nuna, and her adorable arctic fox companion. The two have to help each other across the treacherous Alaskan landscape to find what's causing the blizzard and (hopefully) stop it before it consumes Nuna's village.
The story is narrated by a member of the Inupiat, the tale told in its native language with subtitles, and is conveyed as a blend of in-engine cinematics and hand-sketched animations. It's not a very complicated tale, fitting in with European fairytales or folklore.
But the story is less a great work of fiction and more a lens through which the game examines the Inupiat people. Each level contains a number of "Cultural Insights"--short documentaries (a few minutes at most) that highlight some aspect of the Inupiat.
In other words, it's Reading Rainbow in the context of a video game. You have the game itself, but then you have these real-life documentary portions that provide context for the various game mechanics.
For instance, when you first come across Nuna's arctic fox companion you'll unlock the corresponding Cultural Insight--a gorgeous piece about a tamed arctic fox, told by Ronald (Aniqsuaq) Brower, Sr. "When I was growing up my grandpa had a pet white fox," says Brower. "If you're good friends with a white fox, if there's danger about they try to keep you out of trouble."
The Northern Lights are an "enemy" because in Inupiat culture the aurora is traditionally considered to be the souls of those who died as children, and if they get too close they'll "play Eskimo football with your head," according to another of the game's interview subjects. Even the art was done in concert with the Inupiat, the game trying to appropriately represent every aspect of the native culture.