Netatmo Weather Station review: the weather station for the connected home
Netatmo's station surprised us with its accuracy and focus on connectivity. Out-of-the-box support for smart-home platforms makes it a great choice despite its price tag.
At installation, the software installs a shortcut to a webpage where you can view data as well; but if you already have Netatmo's Thermostat or Welcome security camera, you'll already have this link. I like the Twitter-sharing features, and I've already shared some of my graphs during severe weather events. Unfortunately this is missing from the app, which is a shame.
One tiny pet peeve with the app is in the rain gauge measurements: While it will give you rain rate and daily accumulation, it does not provide a monthly or yearly total. It also measures rain to a thousandth of an inch, which is unnecessarily specific considering official measurements are to a hundredth of an inch—but that also shows how sensitive the gauge is.
The Netatmo Weathermap is another cool feature, which your station contributes data to by default. Here you'll be able to see a map of all Netatmo stations worldwide. If you're privacy conscious, this might bother you, because your exact weather-station's location is public. Be sure to shut it off in your station settings if you want to keep this information private.
As an added bonus, your station is also added to Weather Underground services, although you'll need to follow these instructions if you want to "claim" your weather station there.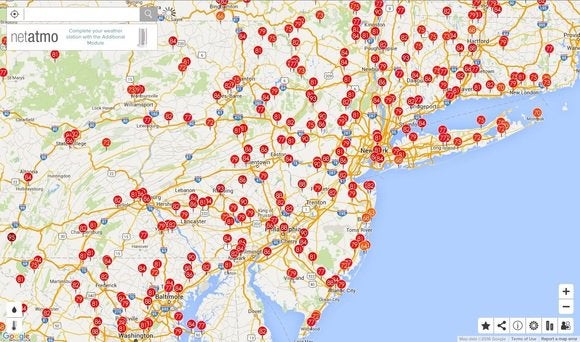 Netatmo's web-based Weathermap feature displays weather data from stations around the world.
Netatmo's place in your connected home
Netatmo won us over with its connected home functionality. While it is compatible with Samsung SmartThings, I don't have a SmartThings hub to test it out with and cannot comment on its performance there. I instead used its IFTTT functionality, which connects it to a multitude of other smart gadgets.
Netatmo's IFTTT channel comes with 17 different triggers on a variety of conditions, such as temperatures rising above and below a certain level, rainfall no longer being detected, and noise or CO2 levels reaching a certain threshold. It's easy to set up, and I'm using it myself: Every day at 12:00 a.m. IFTTT sends me a notification with the amount of rain that fell during the day (that, of course, doesn't scratch the surface of what it can do).
Final thoughts
I can't say enough good things about Netatmo. As a soon-to-be-meteorologist, my biggest fear seeing the design of this setup was that it looks pretty, but the accuracy would be crap. I was wrong. The decision to open up Netatmo to smart-home connectivity is a very smart move.
The Netatmo Weather Station has a flaw or two: It doesn't play well with older routers for whatever reason (I've looked for an answer to no avail), so you'll need to have a solid and modern wireless network. And the sonic wind gauge doesn't seem to be the most accurate and is easily clogged by snow.
Previous Page 1 2 3 4 Next Page