Netatmo Weather Station review: the weather station for the connected home
Netatmo's station surprised us with its accuracy and focus on connectivity. Out-of-the-box support for smart-home platforms makes it a great choice despite its price tag.
We first saw the Netatmo Weather Station at the launch of its rain and wind gauges at IFA 2015 and walked away impressed with how comprehensive its offering was. Since then, Netatmo has made the station even better with support for Samsung's SmartThings platform and the IFTTT platform.
Such high-tech functionality comes at a price. The base station and one temperature/humidity sensor sets you back $180. But you'll really want to add the $80 rain and $100 wind gauge to get the most out of this system, which means it's a $360 investment.
At that price point, the Netatmo is in line with some of the higher-end stations commonly used by weather enthusiasts, such as those from Davis Instruments. But Netatmo actually does connectivity better, as everything you need to connect to your weather station remotely and use the data to your benefit is either built in or easily set up through solid third-party support. Davis and other competitors don't offer that.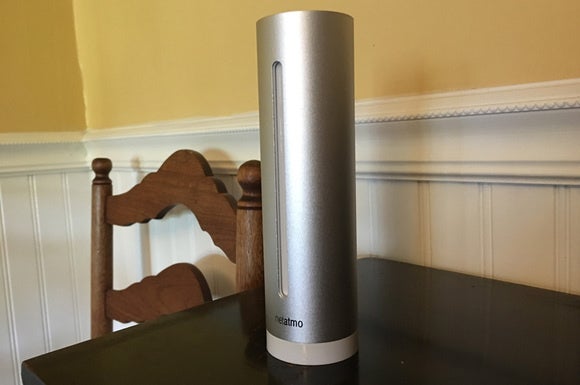 The base station acts as the hub and communicates with all sensors wirelessly. It has temperature, humidity, CO2, and noise sensors built in. Credit: Ed Oswald
Setting up
Getting the Netatmo set up is a breeze. All you need to do is plug the base station into your computer via USB and then head over to Netatmo's site to download the setup software. The necessary Wi-Fi information is downloaded into the base station, and once done it will instruct you to disconnect and connect to a power source.
From there, you'll just need to pull the plastic tabs out from the battery contacts of each instrument and the base station will connect to it automatically via an ad-hoc Wi-Fi network. Give it a few minutes though to start receiving data: it took my review unit about five minutes for all the instruments to start reporting.
For the most accurate weather readings, follow our placement suggestions in the buyers' guide and you shouldn't have any problems. Also be sure to download the app while you're at it: without it, you'll miss some of Netatmo's best features.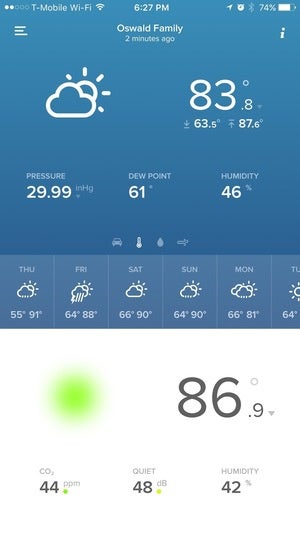 The app is well designed and allows access to your station from anywhere.
Our experience
The Netatmo Weather Station got the most extensive testing from us, as it has continuously run since January. It's also taken a beating too: below-zero temperatures, sensors buried under 30 inches of snow, and some torrential downpours. Save for a few hiccups, the Netatmo rose to the challenge.
None of the sensors malfunctioned during our test, and they've held up well considering the wild weather we've been having here in the Northeast. And while all instruments run solely on battery power, the batteries themselves still have a high amount of charge left after four months of use.