Naim Audio Mu-so Qb wireless speaker review: It sounds as beautiful as it looks, it just doesn't get loud enough
It'll fill the smaller spaces in your home with sound, but you'll need its bigger sibling for the living room.
Whichever music you choose, the Mu-so supports most of the important audio formats, including WAV, FLAC, and AIFF up to 24-bit resolution with maximum sampling rates of 192kHz; Apple Lossless up to 24-bit resolution with a 96kHz maximum sampling rate; and up to 16-bit/48kHz AAC, MP3, Ogg Vorbis, and WMA files.
One thing I dig about Naim's app is that it pulls in Rovi metadata about whatever music you're listening to, whether it be from your own collection or streamed from a service such as Tidal. If you miss the liner notes of the LP era, you'll appreciate being able to see information about the engineer, the producer, the contributing artists, and much more. It's not as in depth as what you'll get with a Roon subscription, but it's also a whole lot cheaper.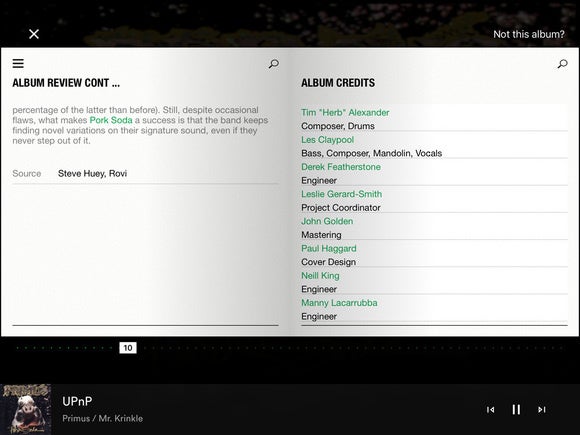 One feature we really like about Naim's app is that it includes a wealth of metadata about the music you're streaming to it.
Should you buy one?
If you own other Naim components and are looking to step up to a multi-room system, The Mu-so Qb is a no-brainer for the smaller rooms in your home (bedroom, dining room, and so on). It's every bit as accurate as the larger Mu-so, but it's much more compact and it costs a third less.
On the other hand, a price tag one-third less than the original Mu-so is still $999. Yes, it's an audiophile-class speaker that delivers a better musical performance than any Sonos component can touch, but that's a lot of money to bring music to the smaller rooms in a home. I'd hesitate less if the Mu-so Qb was priced at, say, $750 (the Sonos Play:5 goes for $499, and the B&W Zeppelin Wireless is $699—but that speaker doesn't support multi-room audio). Then again, I neither consider myself a true audiophile nor live the luxury lifestyle, so perhaps I'm just picking nits. Bottom line: No reasonable music lover will think you a fool for buying a Mu-so Qb.
Previous Page 1 2 3 4