Naim Audio Mu-so Qb wireless speaker review: It sounds as beautiful as it looks, it just doesn't get loud enough
It'll fill the smaller spaces in your home with sound, but you'll need its bigger sibling for the living room.
Naim takes rightful pride in designing its own drivers—there's nothing off-the-shelf about either of the Mu-so speakers. And the Qb features the very same 32-bit DSP used in the larger speaker, but this one is used to fine-tune the drivers for the acoustic properties of the smaller enclosure. Two DSP settings are exposed to the user in the Naim app: You can configure the speaker as being more than or less than 25cm from the wall. Placing a speaker against the wall can improve bass response, but this can muddy the speaker's rendering of mid-range frequencies. Naim's DSP gives you a great deal of flexibility when it comes to placing the speaker—when you can't avoid a compromised location, the chip will compensate for it.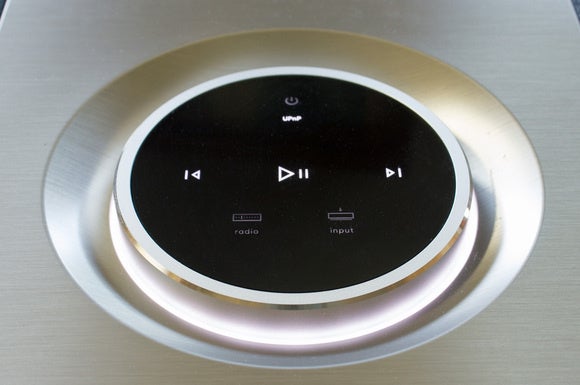 The volume control ring is fabricated from aluminum and features a touch-sensitive display in its center. Credit: Michael Brown
In terms of design, the Qb shares the same asymmetric aesthetic as the original Mu-so in that it has an undulating cloth-covered speaker grill on three sides. If you don't like black, you can purchase replacement grills in blue, orange, or red and customize the app's color scheme to match). The cube itself rests on a clear acrylic base with an LED illuminating the Naim logo (with three levels of brightness).
An extruded aluminum heatsink covers the entire back of the speaker, while the top is dominated by an oversized aluminum volume-control wheel. A ring of LEDs backlights the wheel, and backlit touch-sensitive icons on top of it provide play/pause and track-forward/back functions, input selection (USB, analog, or optical), and Internet radio via iRadio (with five presets that you program through the app). The wheel performs as elegantly as it looks.
The Mu-so Qb has an ethernet port, for those who prefer wired connections, but I tested it with a wireless connection to my router. I streamed tracks ripped from CD and encoded to FLAC (16-bit/44.1kHz), MP3s (from those times I couldn't resist buying a $5 album from Amazon), as well as Apple Lossless tracks and high-resolution FLAC files (24-bit/96kHz) purchased from Bowers & Wilkins' Society of Sound service. These files are stored on a NAS box connected to my home network (both Mu-so's support UPnP servers). The speakers also support Apple's AirPlay technology (for streaming from iTunes and Apple Music) and Bluetooth streaming (with AptX support).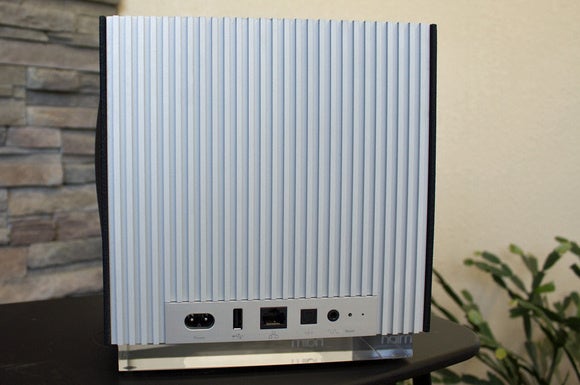 An aluminum heatsink on the back of the Mu-so Qb keeps the unit cool. Credit: Michael Brown
Multi-room audio features
Up to five Mu-so speakers (and other Naim streaming-audio components) can be linked together and controlled via the app. Naim's multi-room support is considerably more clunky than that of Sonos—the platinum standard in consumer-configured multi-room audio—but the Mu-so speakers can do one thing no Sonos speaker can: They can stream high-resolution FLAC files. They'd be even more impressive if they could stream DSD files, but that would only be of interest to an even smaller audience.
Previous Page 1 2 3 4 Next Page