Naim Audio Mu-so Qb wireless speaker review: It sounds as beautiful as it looks, it just doesn't get loud enough
It'll fill the smaller spaces in your home with sound, but you'll need its bigger sibling for the living room.
When I reviewed Naim Audio's Mu-so, its $1499 price tag didn't bother me because its performance knocked me out. So when I saw its diminutive cousin—the Mu-so Qb—at CES in January and learned that Naim planned to introduce multi-room support for the Mu-so lineup, I couldn't wait to hear the smaller speaker. The Mu-so Qb looks just as beautiful as its larger sibling, but it doesn't quite live up to its $999 price tag.
There's certainly nothing wrong with the Mu-so Qb's build quality, its fidelity, or the Mu-so multi-room features in general (which I will also cover in some detail). My one complaint is with this speaker's amplifier: It filled my 350-square-foot main bedroom with sound, but could provide only background music in the larger area of my great room and adjoining kitchen (about 700 square feet combined. Both rooms have 10-foot ceilings.) The speaker was so quiet when I first auditioned it that I thought there must be something wrong with it. Poking around in the Naim app's settings revealed the problem: The app had the speaker configured to produce maximum volume of 51 on a scale of 100.
I quickly reset this to 100, but it didn't change my opinion of the Mu-so Qb for large rooms. Amplifier power was much less of an issue when playing pop music than when I wanted to listen to classical music, which tends to be more dynamic. I don't expect any powered speaker system to make my ears bleed, but the quieter passages of the London Symphony Orchestra's recording of the Beethoven's Symphony No. 3, for example—particularly the second movement, "Marcia Funebre–Adagio assai"—got lost in the bigger room unless I was in a near-field listening position.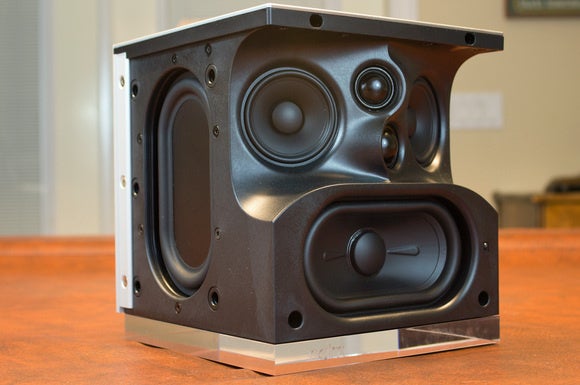 The Naim Mu-so Qb has passive radiators on either side of its enclosure. Credit: Michael Brown
What you get for $999
The cube-shaped Mu-so Qb (get it?) features two 1.0-inch microfiber dome tweeters, two 2.5-inch mid-ranges, and one 5.5-inch woofer mounted in the front. The tweeters and mids are angled and offset to enhance left/right dispersion. Stereo separation was good, but not knock-me-flat terrific; especially when compared to the original, larger Mu-so 0819. A pair of 5.75-inch passive radiators mounted on either side of the cabinet help the powered woofer serve up delicious amounts of extremely well-defined bass. Naim doesn't offer a wireless companion subwoofer, but you won't feel the need to have one, either.
Listening to Chaka Khan's over of Prince's "I Feel for You," from the album of the same name, I was very pleased with the Mu-so Qb's ability to render the thumping bass line. The less-expensive Sonos Play:5—one of my all-time favorite multi-room audio speakers—was much less able to render each bass note as cleanly and distinctly as the Qb was.