Moto Z review: Motorola proves modular smartphones are the future of mobility
Completely unadorned, Motorola's new flagship phone is a solid performer. But once you add in swappable modules, you can configure the smartphone of your dreams.
Speaking of which, the Moto Z's 5.5-inch Quad HD display is not only gorgeous, but also notably bright. This comes in especially handy when you're walking around catching Pokémon in broad daylight. And, yes, that's exactly how I used this review unit during my week of testing.

Florence Ion
The front-facing fingerprint scanner isn't my favorite implementation of the security technology.
My least favorite element of the Moto Z's design is its front-facing fingerprint scanner. It looks like it functions as a Home button, but it doesn't. Instead, it just takes up space that could have been allocated to the display. For shame. The fingerprint scanner feels like an afterthought, a last-minute addition on Motorola's part. At the very least, it would be nice if you could long-press this button to turn off the display.
What happened to the headphone jack?
The Moto Z does not feature the standard 3.5mm headphone jack that's been a staple of every music-playing electronic device since the middle of the 20th century.
Don't have a Bluetooth headset? Then get ready to cart around this USB Type-C dongle.
If you're aching to listen to tunes, you'll have to either invest in a pair of Bluetooth earphones, or carry around a clunky USB Type-C adapter to plug in your analog earphones (the adapter comes with the phone). If you go the Bluetooth route, you'll have to be diligent about keeping your earphones charged. If you're still attached to your old-school analog earphones, you'll have to always keep tabs on the whereabouts of that dongle. Either way, it's an annoyance.
Flagship-caliber internal components
Like the rest of the high-end smartphone brood, the Moto Z runs on the latest Qualcomm Snapdragon 820 processor and 4GB of RAM. In our benchmarks, it easily held its own among the rest of the flagship competition, though there might have been GPU throttling in one particular test.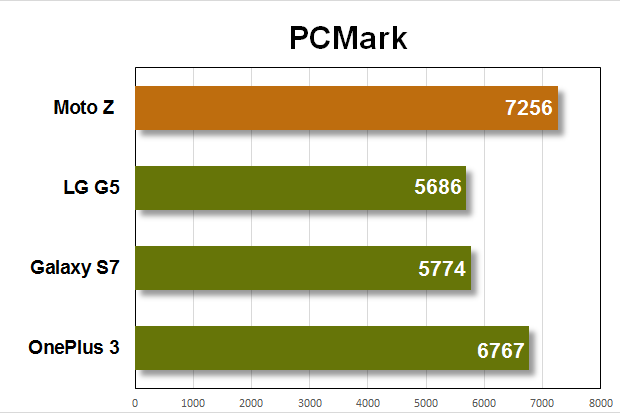 In our PCMark tests, the Moto Z ranked the highest—even higher than the OnePlus 3 with 3GB of RAM.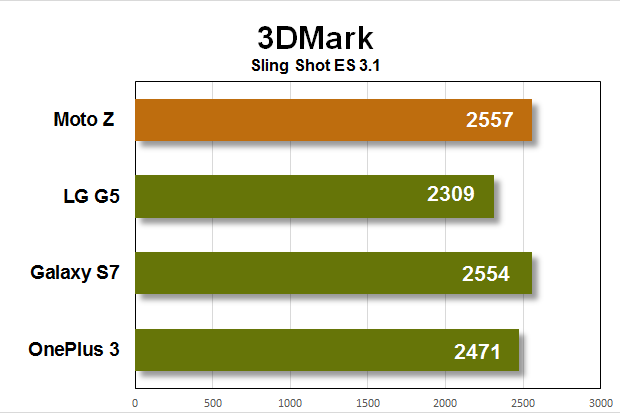 In 3DMark, the Moto Z proved its abilities as a mobile gaming console.
Specifically, in 3DMark's Slingshot 3.0 benchmark, which tests OpenGL ES 3.0 on a Full HD resolution, the Moto Z consistently produced fluctuating results. However, the phone did fare better in Slingshot 3.1, which tests OpenGL ES 3.1 at a 2K resolution, and managed slightly higher numbers than even Samsung's Galaxy S7.
The Moto Z's 2600 mAh battery might seem small compared to other phones' batteries, but it's efficient. During all my field testing, I managed about two days of light use without needing to plug in the phone. I suspect as long as you keep the display at a low brightness, you'll likely see similar mileage. Check back later for a full run down of our battery benchmarks to see how long this phone lasts in empirical tests.
Previous Page 1 2 3 4 5 Next Page