Mohu BeBox review: An epic mashup of Bluetooth boombox and Android tablet
The Boombox survived the transition to CD, but the MP3 and iPod era all but killed it. Mohu, the company that redefined the high-definition TV antenna, aims to resurrect it with the BeBox.
And you're not limited to music apps, either. Once I'd downloaded the Watch ABC, PBS Kids, and the CW apps and connected the BeBox to my big-screen TV's HDMI input, my family and I could watch full episodes of our favorite TV shows in high definition, using the BeBox as a high-quality sound bar. Do you own a portable video projector? Take it outside, hook it up to the BeBox, stretch a sheet between two trees, and host a backyard movie night for the neighborhood. The 16000mAh battery will power the speaker for about eight hours.
Audio performance
The primary reason the BeBox's cabinet is so large is to accommodate the number and the size of its speakers: The BeBox has five: two soft-dome tweeters on either side of the unit; two 3.0-inch midrange drivers; and a 6.5-inch high-performance, long throw woofer augmented by a front-facing, vented bass port. With a discrete amplifier powering each speaker, the BeBox can move some serious air.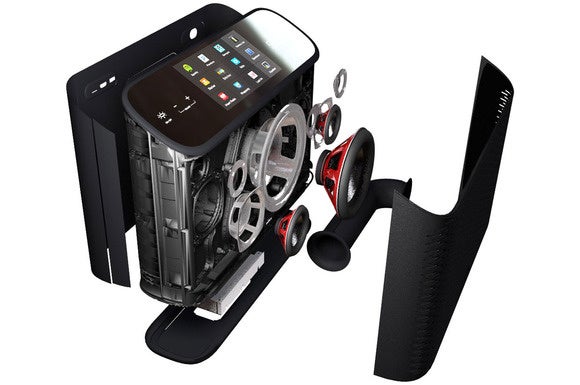 This exploded image of the Mohu BeBox provides a view of its five drivers and bass port. Credit: Mohu
The BeBox delivered great performances with music, delivering nicely detailed sound. The folks at BeBox intentionally boosted the system's bass response, which would normally make me cringe because it would muddy up the sound. But it's handled well in this case, especially when you use it in outdoor environments where there will be no room gain (the bass reinforcement you get from sound waves reflecting off interior walls).
I will note one sonic negative: My review unit had an elevated noise floor regardless of input, an issue that was more prevalent with content played via Android apps than music streamed via Bluetooth or it AUX input. But this was noticeable only when I played the BeBox at very low volume levels, which won't be typical with this type of speaker. I certainly don't consider it a deal-breaker.
Why bother with Bluetooth?
Bluetooth support is something of a check-box item for the BeBox. Yes, you can easily stream music from your phone to this speaker, but you probably won't much. At a party, the BeBox performed more like an old-fashioned jukebox as people gathered around it to queue up their favorite tunes. I didn't need to relinquish control of my phone, I didn't worry that an incoming call would end up playing for the entire room, and I could walk away without the music sputtering to a halt.
Mohu describes the BeBox as a wireless boombox, but it's far more than that. The presence of an entire Android tablet inside a portable speaker with an HDMI output is a revolutionary concept. The only feature I can imagine adding would be an embedded pico projector to deliver a truly mobile home theater, but that would undoubtedly increase the BeBox's $499 price tag. As it stands, this is a great entertainment system.