Mobile device strategies catch on among hospitals
A recent survey shows that more hospitals are developing mobile strategies, but there is still work to do on the implementation side.
"These are largely the end users of mobile devices and the staff that fall under mobile policy guidelines," the report says. "Clinical participation helps ensure that concerns and practical hurdles are taken into consideration and that processes are designed with real-world workflows taken into account." Clinician participation is also essential to getting buy-in from other clinicians, Edds adds.
In developing mobile policies, hospitals must address the security of patient information and the need to comply with the privacy and security regulations of the Health Insurance Portability and Accountability Act (HIPAA), notes the Spok report. Some organizations that responded to the survey, in fact, "viewed mobile strategies as primarily a security project concerning HIPAA compliance," the report points out.
However, hospitals' mobility strategies must extend beyond security to help them reach their organizational goals, Edds says.
Kuhnen, similarly, says that hospitals must go beyond mobile security if they don't want to fall behind. "They need to look at the productive uses of mobile technology—how the technology can make their workflows more efficient and improve user satisfaction."
Mobile strategies were considered a technology initiative by 25 percent of the survey respondents. Twenty-four percent of them said their organization's mobile strategy effort was a clinical initiative, and 47 percent viewed it as a communications project.
Of the respondents from hospitals with a mobility strategy, 53 percent said that improving physician-to-physician communications was an organizational goal, but only 19 percent included that goal in their mobile strategies. (See the graphic for a breakdown of organizations' goals for their mobile strategies.)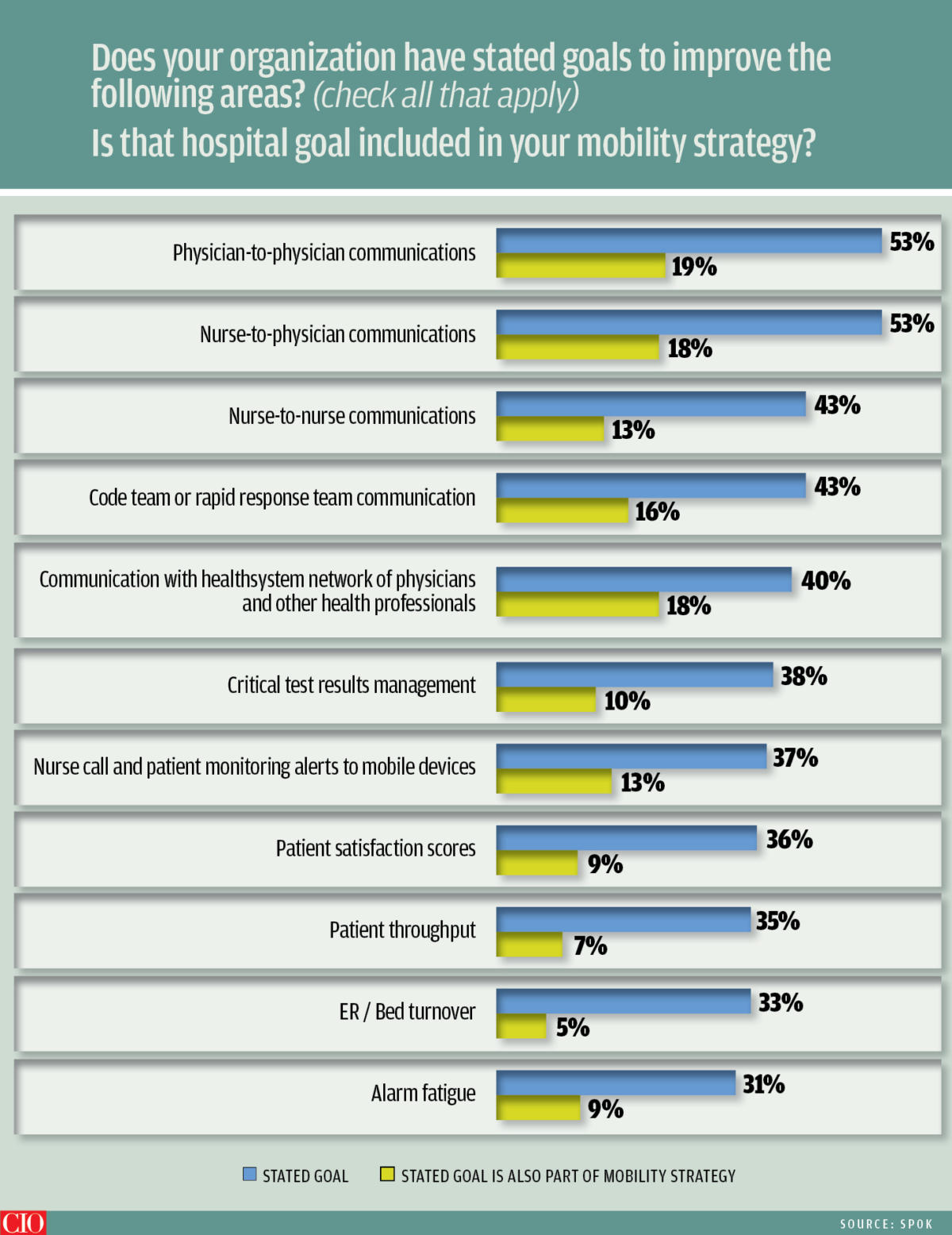 Credit: CIO
The report said this "reveals a lot of room for increased strategy behind mobile planning and more inclusion of the big-picture goals within mobile plans."
The need for some hospitals to update their mobile strategies because of changes in their EHRs, Edds says, reflects the fact that not many EHR vendors have developed mobile versions. "The deployment of mobile EHR products is a relatively new phenomenon. Customers are just starting to do those deployments now."
The vendors that have introduced mobile versions, such as Epic, Cerner and Allscripts, are still "treating mobile devices as an enhancement to the desktop experience," Kuhnen points out. "They make it easy to consume information in small bites—to look something up quickly, to request something. Mobile devices are not intended to be a primary documentation and data capture platform today."
One reason for this is that smartphone screens are too small to display much clinical data without a lot of scrolling. Also, whether a clinician uses a smartphone or a tablet, it's difficult to type rapidly on these devices. In a hospital environment, Kuhnen says, tapping on a tablet is not ideal for documentation. But he sees that changing as voice recognition and natural language processing improve.