Minecraft's PC share shrinks as users stampede to cheaper console and mobile versions
Microsoft's simply offering too much value in its console and mobile versions for the average consumer to wrestle with the PC edition.
When you think about how Microsoft now pushes apps and services like Outlook or Cortana across multiple platforms, Microsoft's purchase of Mojang for $2.5 billion in 2014 makes much more sense. But it also highlights the rocky road that Microsoft's business will bump over as it tries to make its UWP vision a reality.
Take pricing, for one. Microsoft charges $26.95 for the traditional PC version of Minecraft, $19.99 for the Xbox One version, and just $6.99 for the Pocket Edition app and similar versions on mobile platforms. (Microsoft charges $9.99 for the Windows 10 Pocket Edition.) That itself is helping to drive gamers to the other platforms.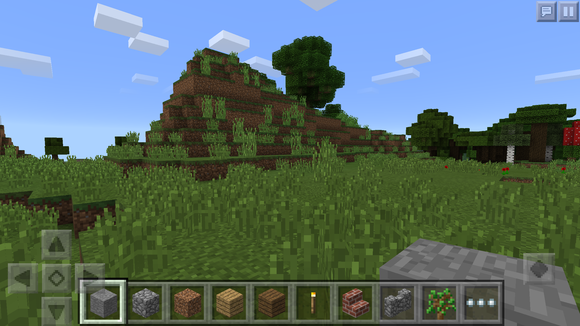 Microsoft's cheaper Pocket Edition offers much of the same Minecraft experience for far less.
Microsoft has justified the relatively high price of its legacy Win32 app by highlighting its flexibility, which allow users and designers to do practically anything they want with the platform (except sell stuff) via software modifications. But over time, Microsoft has cherry-picked some of the most popular content and ported it to its other, cheaper platforms, including "redstone" to the Pocket Edition and shared servers. (Fans still complain that Mojang still has yet to add the "Ender Dragon" and other legacy gameplay elements to the Pocket Edition, however.)
Mojang also added cross-platform play to Minecraft via a 2015 update, allowing Pocket Edition players on PC, iOS, Android, or Windows Phone to play together on a local network or five PC players to play together over Xbox Live. But so far that cross-play capability has eluded the original Java-based version of the game, and saved games still can't be shared among platforms. There are now essentially three major, incompatible versions of Minecraft: the legacy PC edition, the console versions, and the new UWP/mobile apps.

In many ways, that's evidence of the messy, messy legacy that Microsoft must deal with as it tries to unify decades worth of apps under its new Windows 10 banner, especially with initiatives like Project Centennial.
While Win32 apps like Minecraft were written during a more freewheeling time when they could be modified at will, Microsoft's UWP apps under Windows 10 sacrifice that flexibility for compatibility across as many platforms as possible. Now Microsoft is working to bridge the gap between old and new with pledges to allow some mods, frame rate counters, and the like in UWP apps. But the only recent modifications to UWP apps like Quantum Break have been tweaks to allow them to work with GSync and FreeSync monitors.
Eventually, Microsoft may be able to strike a balance between the flexibility of modifications and allowing a consistent Minecraft experience across multiple platforms. But for now, gamers appear to be simply throwing up their hands and moving on.