Minecraft: Story Mode hands-on: This one's for the fans
Telltale's new game is more for Minecraft addicts than it is for fans of The Walking Dead and Wolf Among Us.
The demo then cut to a second (short) scene. After arriving at Endercon, some unexplained series of events has led to an evil creature invading the world. It's a massive, floating Ender-something with three heads and lasers/tractor beams shooting out of its mouth.
This second scene was heavy on the action, with Jesse mostly preoccupied with fleeing. It's standard Telltale material—lots of quick-time events, minimal user input, and the occasional blink-and-you-miss-it choice. The scene ended with Jesse pulling out flint and steel to ignite a Nether portal.
As the demo ended and I thought back on what I'd played—creepers, jokes about wooden swords, Ender-beings, Nether portals with flint and steel—this is when I started to wonder how interesting Minecraft: Story Mode would be to non-fans.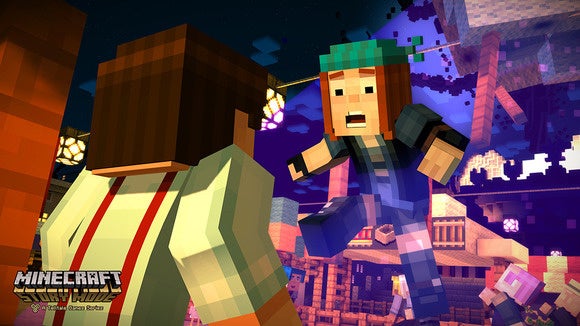 Minecraft: Story Mode isn't The Lego Movie or Lego Dimensions, where a general knowledge of pop culture carries the story. It's not The Walking Dead where all you need to know is "There are zombies, and zombies are bad." It's more like South Park: The Stick of Truth—a fan game for fans. What I saw of Minecraft: Story Mode is very pointedly aimed at people who already play Minecraft, who will catch and appreciate the references.
And that's totally fine! Minecraft is played by millions and millions of people, so that's certainly not a niche base. But it was an interesting experience as someone who plays and enjoys Telltale's games—this definitely didn't feel like it was made "for me," the Telltale consumer. It's a Minecraft game first and foremost.
We'll see if my opinion changes later—Telltale's got five episodes to prove me wrong, and I hope they do. There's no specific release date for Minecraft: Story Mode yet, but I imagine it's only a matter of months if we're playing the game at PAX. Certainly by the end of 2015.