Minecraft: Story Mode hands-on: This one's for the fans
Telltale's new game is more for Minecraft addicts than it is for fans of The Walking Dead and Wolf Among Us.
I didn't know what to expect from Telltale's latest game, Minecraft: Story Mode, because I never expected Minecraft: Story Mode to exist. Like The Lego Movie or the film adaptation of Battleship, it's a weird enigma—a story created from something inherently story-less (or at least story-light).
After playing about fifteen minutes of Minecraft: Story Mode at PAX, I have come to one conclusion though: This is a game for Minecraft fans, not Telltale fans.
Inside jokes
It's an important distinction to make, because I feel like previous Telltale games have been pretty approachable even to those who weren't fans of the source material. I didn't care at all about The Walking Dead before playing Telltale's game. I only knew bits and pieces of Fables before trying Wolf Among Us.
Minecraft might turn out the same way, when all is said and done. This demo was a bit weird in that we played two nonconsecutive slices of the game with minimal setup, which makes it pretty hard to get a feel for the characters—a.k.a. the most important part of any Telltale game.
But as someone who has played a bit of Minecraft but wouldn't necessarily term myself a fan, I often felt like I was grasping at the edges of inside jokes with Minecraft: Story Mode.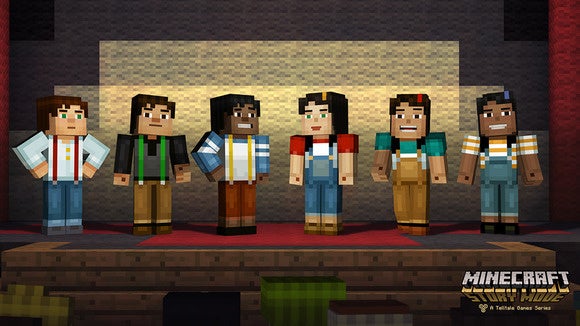 The many faces of Minecraft: Story Mode's Jesse.
The game stars Jesse—either a male character voiced by Patton Oswalt or a woman voiced by Catherine Taber, depending on what the player chooses. Our demo started with Jesse and his/her pet pig Reuben on the way to a convention known as Endercon when Reuben's costume catches fire. I took over as Jesse hunted through the woods for Reuben.
It certainly looks like Minecraft. Like with Tales from the Borderlands, Telltale has expertly coerced its aging engine into mimicking another game's art style. I wandered aimlessly through the woods, sometimes turning left, sometimes right, until I found Reuben hiding in some shrubs.
I took too long though, and the sun set as Reuben and I walked back through the woods. Zombies, spiders, and a creeper came after me as I drew my sword. I killed one zombie, killed another, killed a third, then *poof*, my wooden sword cracked in half. And Patton Oswalt made a joke about wooden swords being fragile.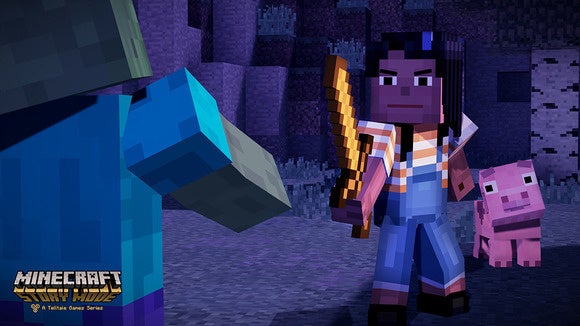 Luckily I was saved by Petra, a [friend/acquaintance/stranger]. I'm not quite sure what her relationship is to Jesse at the beginning of the game. Regardless, Petra took me to her hidden base in a dank cave, replete with a crafting table and a chest full of supplies. There I got to use Minecraft: Story Mode's crafting system to create a stone sword—two cobblestones and a piece of wood in a straight line. It's an interesting application of classic Minecraft game mechanics to Telltale's story-focused walkabout, and I'm curious to see how flexible the system is in the full game.