Middle-earth: Shadow of Mordor review: Seven rings to the dwarf lords
There's a lot of potential in Shadow of Mordor for a great sequel, but this first attempt is being crushed under the weight of Tolkien's source material.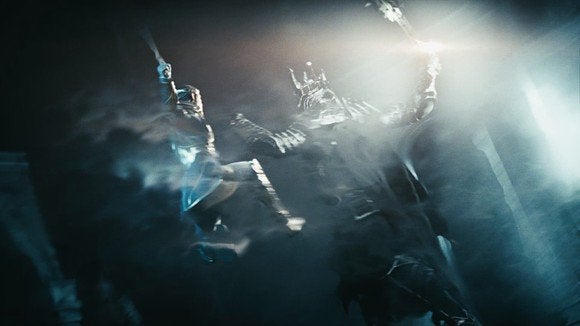 "Hoshu of the Spiders." The name rolls off my tongue with all the hatred I can muster. I've been playing Middle-earth: Shadow of Mordor for fifteen hours already, and here comes good ol' Hoshu, waltzing back into my life like that guy everybody hates at the birthday party, covered in scars from our previous encounters.
The two of us have done battle five or ten times over the course of the last ten hours. When first we met he was a mere shrimp of an Uruk captain--a scrawny little thing with a metal cage around his head, like a bear trap, who shot poisonous crossbow arrows at me. He killed me that first battle out of luck more than anything else, shooting me in the back as I fought another captain.
And he climbed the ranks. And climbed and climbed. I've killed him. He's come back from the grave. I've killed him more times. He's come back again and again, each time with a snarl and a taunt, like "You thought you killed me, huh?"
Yes, Hoshu, I did. I stabbed a sword through your spine and left you bleeding on the battlefield. He doesn't even have that metal cage anymore. It was torn from his face, leaving oozing scar tissue across his eyes.
He just. Won't. Quit.
Enemy of my enemy
You'll never meet Hoshu. Sure, he sounds like an important character in the Lord of the Rings-themed third-person action game Shadow of Mordor, and he was important--at least in my playthrough. But he's ultimately a product of the game's Nemesis system. Rather than propelling you through a series of predetermined enemies in the course of its open-world experience, developer Monolith has instead scripted a system that turns ordinary fodder enemies into procedurally-generated boss fights.
Hoshu is a random set of traits: a poisoned-crossbow wielder with a metal grate on his head who hates fire and is invulnerable to both ranged attacks and being leaped over, with a reedy but intelligent-sounding voice (for an orc). Oh, and of course the "Hoshu of the Spiders" name, which is completely random.
It's an impressive system, especially when compared to the open-world games of yore. The awkward series of clones wandering around Grand Theft Auto V or Watch_Dogs already seems old-fashioned. Even the "nameless" fodder enemies in Shadow of Mordor are simply biding their time. If one of them manages to kill you the camera will zoom in and put a name and face to your foe, and they'll most likely get promoted to captain in your absence--instead of reloading after you die, a nebulous amount of time passes during which various orcs will move up in the ranks, fight amongst themselves, or even be murdered by jealous rivals.